What happened to Dave Matthews Band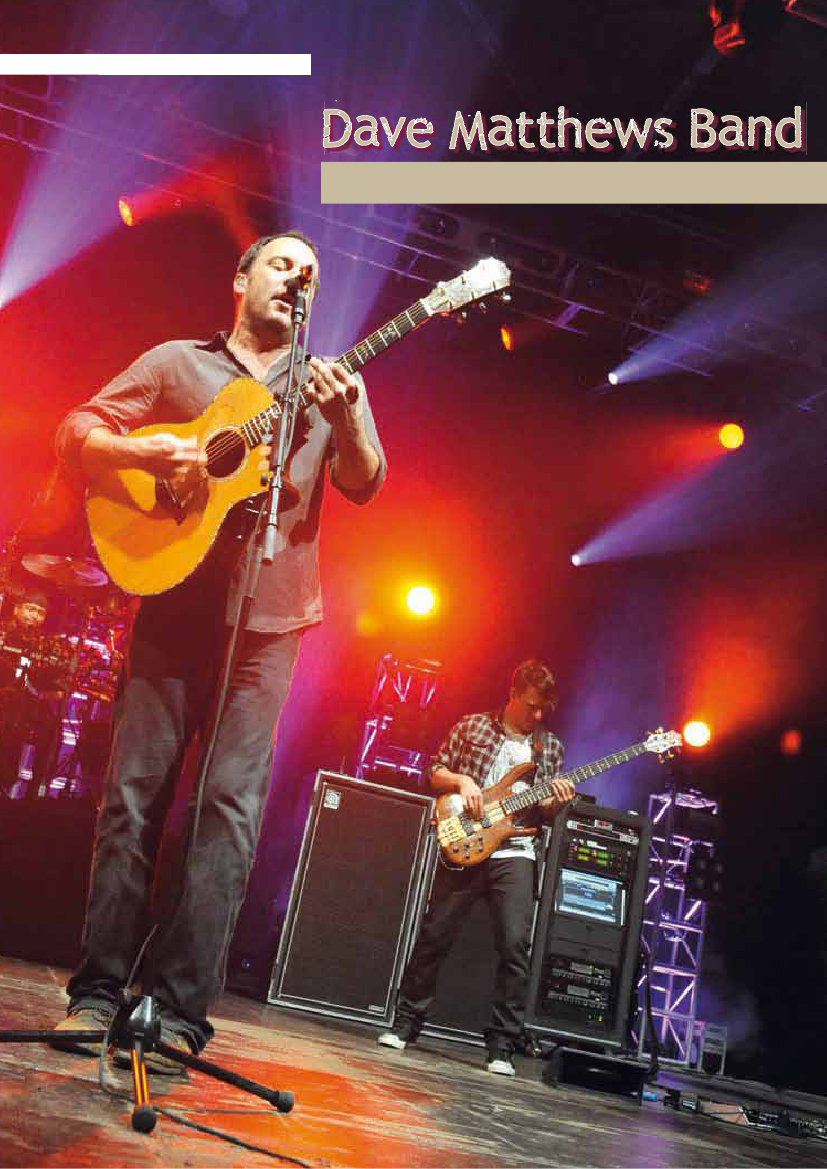 INTERVIEW: DAVE MATTHEWS BAND
The name of Dave Matthews Band
many have heard it, but
if you're not a fan
the band is, you get here-
in the country practically nothing of her.
Quite different in the US, where they are
an absolute mega-seller and
Stadium filler is. Now honored
the musicians the old continent.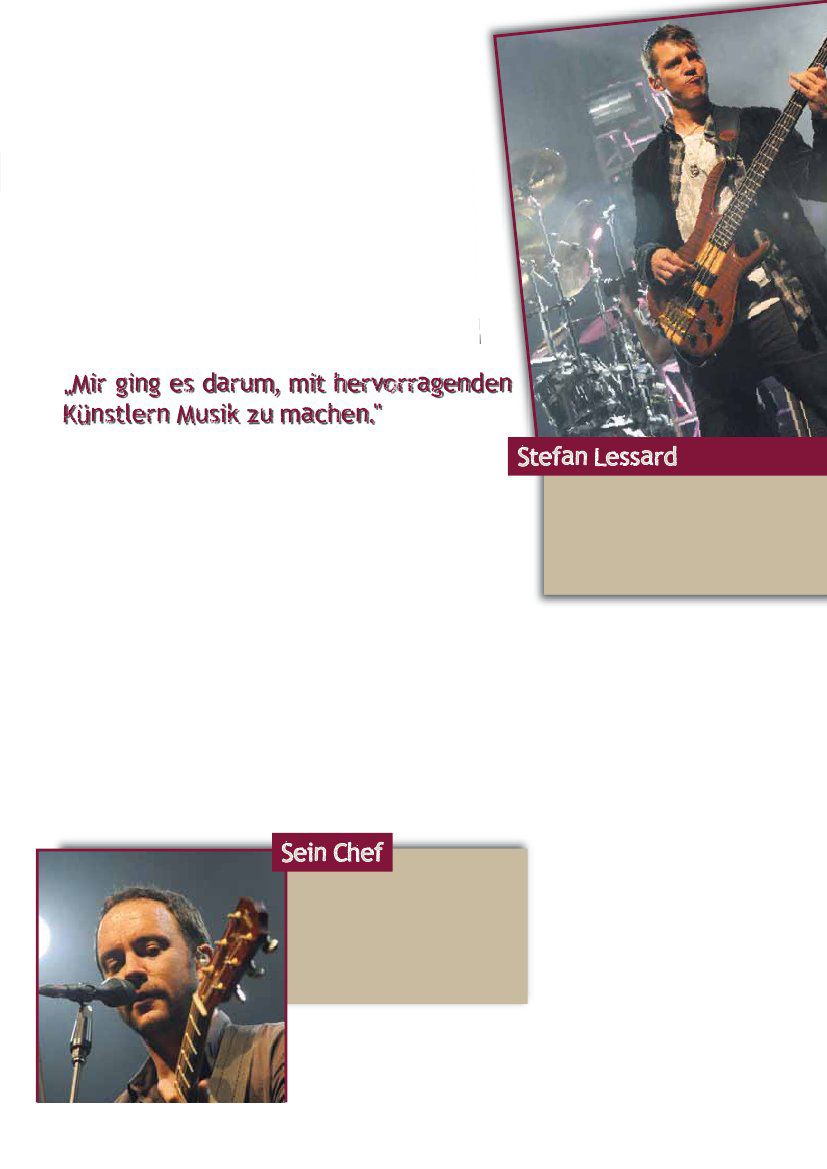 with their mix of styles and their immense
Dave Matthews has it in music
Volume virtually from zero in a very short time
Made it on stadium tape. And on this ni-
The band is already moving veau
for over ten years. Reason enough for us to
Musicians at one of their rare Europe spot
Visiting times to look at the fingers. Before the
Bass player called himself a concert at the Munich Zenith
and founding member Stefan Lessard
Time to tell us how in an interview
he joined the band as did his musical career
started and which equipment he prefers.
SOUNDCHECK: Hello Stefan, let's get started
let's start from the beginning: How are you actually
to play with a jazz teacher who himself
also knew about classical music.
When I was at Dave Matthews
Tape started, I went back to the
Electric bass, simply because the music deals with it
Double bass didn't feel right. in the
So in the end I pretty much
I taught it myself, because it went quite
touring quickly, so you can
I didn't take my lessons anymore-
men. We were on the the whole time
Road, and really worked a lot,
hen this band is my school.
SC: Did you think about it straight away?
thought of becoming a professional musician than having it
the Dave Matthews Band started?
At the age of 6 I have
started playing guitar, piano and
Violin. Then my parents told me I had to
decide which instrument to use, and me
chose violin and piano. My parents were both
de musicians, so there were always instruments and
Music in our home. But I don't have myself
seriously dealt with an instrument until I do so
Was 14 or 15 years old and started playing guitar again
re playing. My father was working at the time
an instrument manufacturer and brought one
Take home a Hamer Bass one day. The
I took it to school and just started taking it
couple playing scales in music class. And
my music teacher immediately said "Hey, you do
that's pretty good, have you ever thought about it
thought I was doing this seriously? "And I said
only: "Sure, I do everything seriously." And
a year later I joined the Dave Matthews Band.
So I stayed with the bass (laughs).
SC: Did you take classes back then?
I played the double bass back then and wanted to
really learned this, so i started
When it all started I was only 16
and only knew my sheltered life
Parental home and school. I had none
I know what to expect out there. I
didn't even know the stadiums and arenas in which
every musician wants to play once. From that
I wouldn't even have dared to dream. I went
it's about having excellent musicians from the
Area to come together and together
Making music. When we then began to
To play at other locations, I'm there with big ones
Eyes came in and just thought, "Wow, me
didn't even know that this shop existed. "
I dreamed of other things when I was young
was. I wanted to write songs capable of mine
Instrument and be able to work with other
to communicate with other musicians. And that was
everything gradually becomes reality.
SC: And how would you like your role in the
Describe band? As a link between
the drums and the melody instruments?
That's a good description. I see
myself really as the unifying element
Stefan Lessard was born in Anaheim in 1974,
California born. After his school days he joined
he was just 16 years old in 1991
the emerging Dave
Matthews Band, which soon became big
Celebrated commercial success. Since then he has been as
Professional musicians around the world.
between the percussion and the melody. On
I have my in-ear monitor, for example
actually just the vocals, the drums and mine
Bass. And since the bass is not a chord instrument
is - although you can of course play chords
- you play melody lines all the time, similar to
a singer. The task changes in this band
of the bass from song to song. There are parts
where I can clearly see that the bass is now
really has to lay the foundation on which everyone can
be able to orientate. Carter (Beauford, drummer
the DMB) is really awesome when it comes to
completely free to play. I then decide
mostly not to follow him, because if I do too
would get out of timing, all would be perfect
disoriented. I prefer to keep the rhythm
mus and signal to everyone "Ok, here we are".
SC: And how does something like that work in the
Studio when you're creating new songs.
It works great. With two songs
of the current album, for example, "Lying in The Hands
Of God "and" Spaceman "came out really great
Communication between guitar, bass and the
Drums. We picked it up right away
The now 43-year-old in Johannisburg /
South African born singer and guitarist Dave
Matthews was before Dave Matthews was founded
Band only active in a few regional bands.
Next to Dave Matthews, named after him
Band he is also still working on his solo albums
had guest appearances at, among others, Santana,
Johnny Cash, or the Rolling Stones.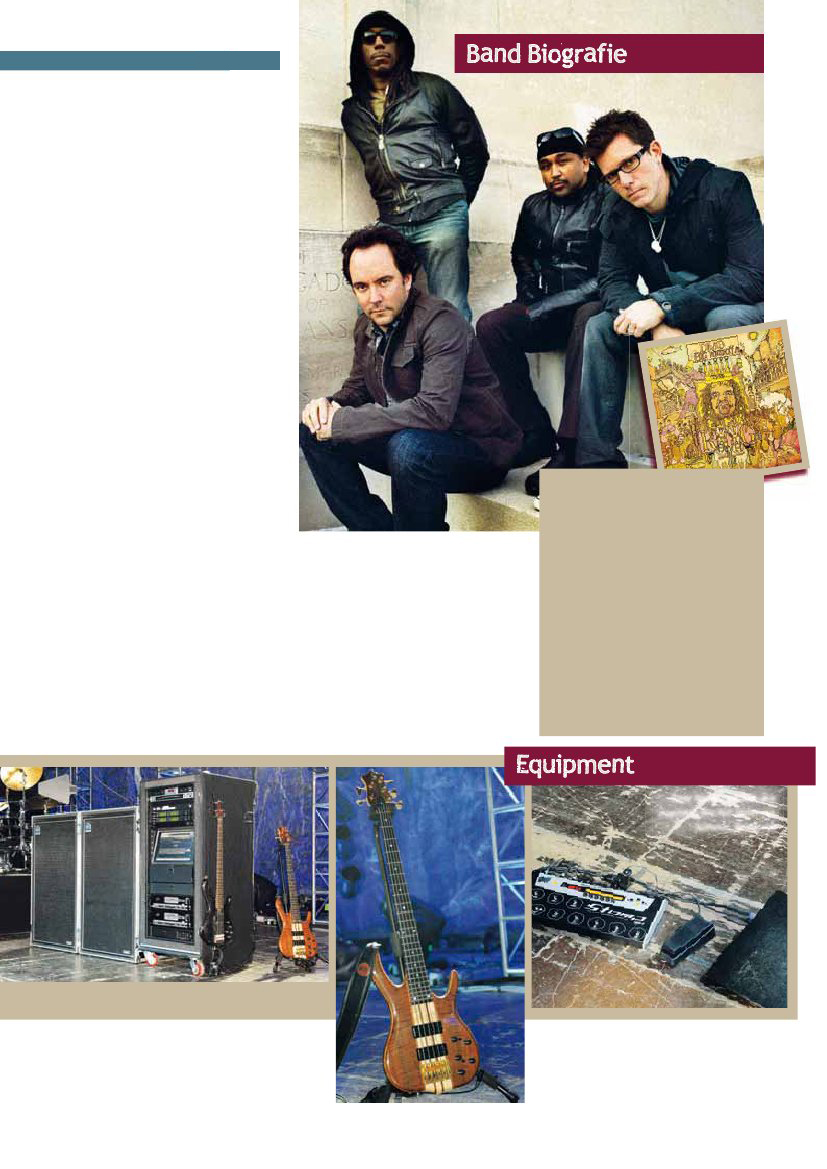 INTERVIEW: DAVE MATTHEWS BAND
took. Later we tried again
record the songs. So we got there-
set us the chords and the arrangement
written down and drove to the studio,
and played it there three or four times.
Later that year we moved to another studio
gone to record the whole thing again
with exactly the sounds that we imagined,
but we just don't have the vibe anymore-
to get. That was a very magical one back then
Moment, and when I look at the recordings today
te listen, I immediately notice that that's about it
because we have a real conversation with un-
our instruments, and these maintenance
one simply cannot say word for word or
Repeat note by note. And that happens to us
also quite often on stage that Carter
does something, and then I react to it.
I find these moments very musical
lish. I've seen a lot of bands that
just pop out one lick after the other,
which is also great, but sometimes
ne well-kept conversation a bit too
Beautiful. And I also believe that the public
kum appreciates that, especially with a
a band with vocals. If everyone just
Would give full throttle while the front man
sings, it would only sound garbage.
SC: Are you reusing in-ear monitoring
always to hear you optimally?
Yes, I use in-ear headphones. In addition, is mine
Bassamp switched on behind me, from there
So I still get vibrations. In addition
my in-ear headphones have a room
microphone with which I can regulate how much outside
I hear noises. So I hear that
Audience and also the natural drum sound, hence
the whole thing sounds very real, not like in the studio.
I also have a wedge in front of me
is actually just a shaker. I got the idea
copied from Carter, who had a shaker on his
Has a drum stool. So he feels it when he
the kick kicks, and when I play a bass note
he feels that too. And I need that too,
rade on big, dead-sounding stages.
Stephan Lessard still has us in the episode
more about his work with the DMB as well
You can find it on www.soundcheck.de under the point
Bonus box. Have fun while reading.
The Dave Matthews Band was formed in 1991 on
Initiative of its namesake. Were quick
with Carter Beauford (drums), Stefan
Lessard (bass), Boyd Tinsley (electric violin) and
LeRoi Moore (saxophone) found. From the
different influences of the musicians
a mix of styles from rock, pop,
Jazz, folk and funk. The first album that the
Entering the Billboard charts was the 1994
Longplayer "Under the Table and Dreaming",
which stayed in the charts for over two years.
Since then, the DMB has been a sure candidate for
the top 10 of the US charts, with both the
Studio as well as live albums. Still
The band is more successful live than in the USA
have been among the 10th for a decade
most successful live acts. Your biggest concert
they pretended in New York's Central Park
Stefan gets the converted box
Stefan Lessard relies on that
Combination of fat Ampeg amps and modeling software.