What do you think of companies
What do you know about our company? THAT you should!
The have to You over Companies know!
Why is the question "What do you know about our company?"Really put in job interviews?
Is it about that, Knowledge, Facts and information to inquire about the company?

Is the seriousness the canditature put to the test?

Or is it the first work sample in matters Willingness to learn of applicants?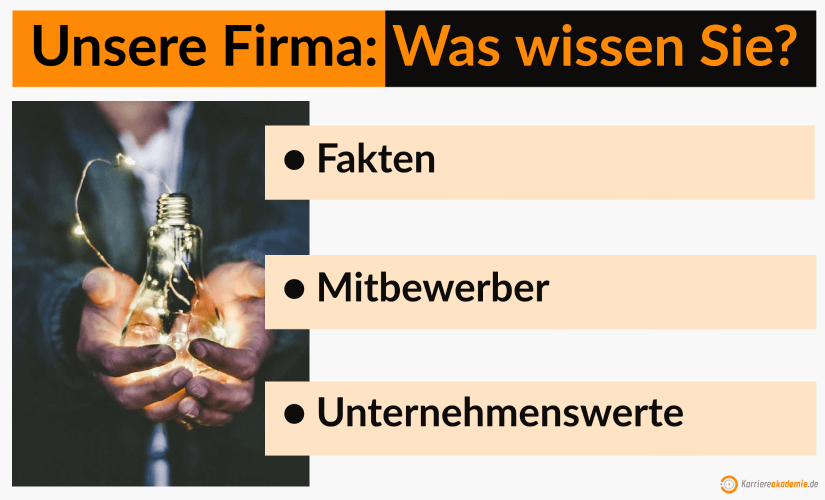 What do you need to know about companies?
Research in advance:
How many Employees and Employee has the company a total of?

How many on Location the application?

What are the most important Products or Services?

Which call has the company in the Branch?

Is there current reports or reports on the Internet?

How does the company position itself at the Company homepage dar?

Will be a technological market leadership described?

Is the customer focus especially strong?

Are from the company social media used: Facebook, Xing, LinkedIn, Twitter, others?

What about the digital transformation out?

Is there a lived one Error culture?

And which Corporate values are still emphasized?
Dream employer or stopgap?
Some applicants dream of getting a job with their for many years Dream employer to conquer.
This group of applicants is usually well informed, often has contacts with the company and knows important products or services.
But there are also a lot of job changers who have been given notice for operational or personal reasons and are now more likely to do so unintentionally have to look for a new employer.
And understandably, companies don't want to be considered here Stopgap to be used.
Because it does happen that a commitment is only made because there is currently no better offer in sight and the new employees then switch to what they consider to be a better employer after a few weeks or months.
So in order to check the seriousness and motivation of the applicants, the question "What do you know about us?" regularly asked.
Inform yourself thoroughly and incorporate key facts, information and key figures into the interview.
Telephone interview

Video interview

Self-presentation

10 most common interview questions

structured job interview

competency-based interview

own questions to new employers
Sample answers: key figures, history, looking ahead
The larger the company, the more facts and knowledge you will find.
Most of the time, you have to think about which information you should focus on.
Corporations in particular have extensive annual reports, press releases and stock market news ready.
It also makes a big difference whether you as a manager should work strategically in the future. Or rather work as a specialist in operational business.
You can research on these points:
Company history

Industry and industry reputation

Competitor

Customers and target groups

Unique selling points on the market

future development
And that you at listed Company always up to date Share price and should keep an eye on the development of the last few years, it goes without saying.
Company knowledge, strengths and successes
When it comes to how well you read up on your new employer, your personal strengths always come into play.
Because your good preparation actually shows, for example, that you ready to learn are, precise analyze, Code numbers use or even strategically and entrepreneurial can think.
Typical job advertisements always contain information with headings such as "Our expectations of you" or "What you bring with you" or "Requirements for applicants".
Compare your personal strengths with the required characteristics, communicative skills and competencies from the job profile.
And use suitable positions in the job interview to highlight your personal strengths.
Willingness to learn

Resilience

Intercultural Competence

Communication skills

Enthusiasm

Assertiveness

Culture of innovation

Process management

efficient delegation

analytical thinking

complex thinking

strategic thinking

entrepreneurial thinking

quick decision-making

Willingness to take risks

Willingness to create

Willingness to change

Hands-on mentality

I know that about the company - and I can do it
Use suitable opportunities and questions to make your preparatory work clear in the conversation.
If you address important key figures, information, facts and future developments, this is always a good opportunity to illustrate your future contribution to the company's success.
After all, you are not being hired to just know anything. It's because you can do something.
Your answer to the question "What do you know about our company?" reinforced Has.
Of course, your own questions to your interlocutors are allowed and welcome on the company website.
For example, on the company's growth course, new target groups or further branches or locations.
Also prepared: Other important questions
You will certainly understand that thorough preparation for job interviews is always useful.
A good conversation is ultimately not a monologue on the part of the company, but a dialogue between self-confident applicants and an attractive employer.
Your preparatory work will also help you to recognize and define your own wishes and requirements.
We know from our daily application coaching that the following questions are asked very frequently.
Also convince here:
Why did you apply to us?

Tell us a little about yourself!

Why do you want to work for us so badly?