Why do smarties taste different
The "sham package of the year": More money for more rubbish
Chips from Lorenz Snack-World are the "sham package of the year". By reducing the filling quantity, the product became 70 percent more expensive.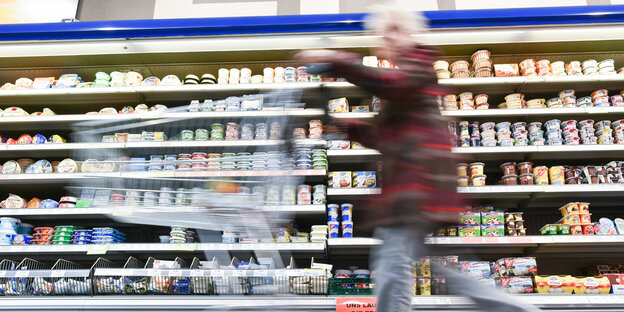 Keep your eyes open when shopping: there are plenty of sham packaging Photo: dpa
HAMBURGafp | 70 grams less for the same price: the Lorenz crisps have been voted "sham package of the year". In an online survey by the Hamburg Consumer Center, more than half of almost 40,000 participants voted for the product. The manufacturer had reduced the filling quantity last year from 170 to 100 grams at the same price - a price increase of up to 70 percent.
The consumer advice center had been looking for the new winner of the negative price since the beginning of January and offered a total of five products to choose from. In addition to the crisps, there were also the Smarties from Nestlé, the Mini Babybel from Bel, a turkey salami from the discounter Lidl and a fruit spread from the Grafschafter company. For all of these products, the manufacturers "implemented hidden price increases in a particularly bold and sophisticated way," criticized the consumer association.
Consumers found the new chips particularly "bold": a total of 23,279 of almost 40,000 votes went to the stacked chips, a vote of 58.7 percent, as the consumer center announced on Monday. The salami, which, according to the opinion of the consumer association, wrongly suggested a lower fat content, made it to second place, followed by the Babybel, where recently one cheese ball less was in the net. The Smarties voted consumers in fourth place, where there was recently less content for the same price, as did the fruit spread - fifth place.
Armin Valet from the consumer center in Hamburg spoke of a "memorandum" for the chip manufacturer Lorenz. The hidden price increase for chips is "particularly blatant, boldly implemented and not the first of its kind". The new cardboard box is hardly smaller than the old one and is also equipped with a so-called serving tray made of plastic and freshness film. "Consumers get fewer chips, but in relation to the content they get more rubbish for their money," complained Valet.
Lorenz had stated in a statement in September that he had "introduced a different product and packaging concept". The new chips also have a different recipe and "taste different". The new concept also included a new filling quantity and a "new recommended retail price", explained Lorenz at the time without any further information. The new packaging also "significantly" facilitates recycling, as the materials can be disposed of separately.
The consumer advocates called for an improvement in the situation for consumers. What is needed is an online platform on which changed fill quantities "must be published in advance," Valet demanded.