How hard is it to get to Bollywood
Bollywood is changing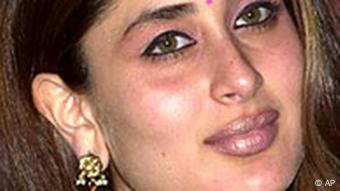 Kareena Kapoor, Indian actress, starred in the Bollywood film Black
"Black" is an unusual Bollywood film - because there is no dancing and singing, no clown who makes the audience laugh, no hero who heroically fights social injustice. "Black" tells only one story: the story of the blind and deaf and dumb Michelle McNally and her eccentric teacher Mr. Sahai, who is the only one who treats her like a human.
Staged intensively and sensitively by director Sanjay Leela Bansali, the film can still come up with two of the biggest Bollywood stars in the leading roles. Amitabh Bacchan plays Mr. Sahai, the teacher, and Rani Mukherji plays his blind student.
Movement in mass cinema
Bollywood is changing, the topics are becoming more realistic. And that is urgently needed, says Indian director Anurag Kashyap. He made a name for himself with films like "Black Friday" or "Panch" outside the mainstream. "We mainly produce love or family films, sometimes a few revenge dramas," he says. "When we make realistic films, they are so artistic that it's boring again."
Commercial cinema in India is a cinema for the masses. 60 percent of Indians live in over 500,000 villages in the country. You want to let yourself be carried away into a fantasy world for three hours, away from the harsh reality of life.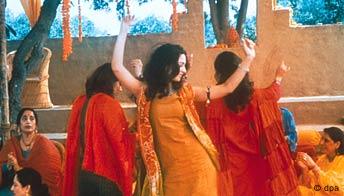 The pretty Ayesha Verma (Neha Dubey, M.) dances in the movie Monsoon Wedding in New Delhi at her cousin's wedding party
New diversity
Because of these viewing habits, it was so difficult for director Onir to find a distributor and a producer for his first film "My Brother Nikhil". His film portrays Nikhil, a young homosexual who is infected with HIV. Excluded from society, only his sister Anamika sticks to him. "Films that deal with topics outside the mainstream have never completely disappeared from Indian cinema," says director Onir. "The main problem is the producers and distributors who always want to make films based on the same model."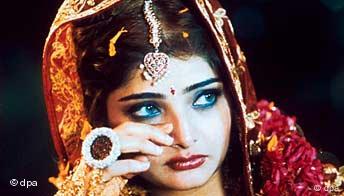 The bride Aditi Verma (Vasundhara Das) is waiting for her wedding in New Delhi in the new movie Monsoon Wedding
The variety of themes in Indian cinema also gives young aspiring actors the opportunity to experiment with roles. Just a few years ago, actors had to decide whether they wanted to pursue a career in the commercial cinema with its stereotypical characters or in the experimental cinema. Sanjay Suri, the main actor of "My Brother Nikhil", is pleased with the new development. "You can't plan for commercial success," he says. "I don't want to be locked into any particular type or image." Because there is now a young generation of moviegoers in India who are interested in very different films. This generation loves not only the films of their own country, but also foreign ones.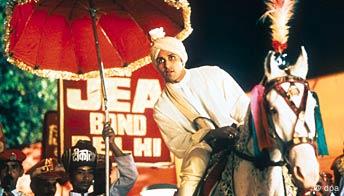 The groom Hemant Rai (Parvin Dabas) arrives on horseback at his wedding in New Delhi in the movie Monsoon Wedding
Kitsch works well in the west
Although Indian film is developing more and more realistic themes, it is the big Bollywood kitsch productions that are gaining more and more fans in the West: with actors dressed in colorful, exotic robes and emotional themes such as love, hate or jealousy. The completely different style of telling a story has led Bollywood to conquer the international market. For about a year now, Bollywood films have been running on German television, especially with teen idol Shah Rukh Khan - with a market share of up to ten percent.