What quorans intimidate you
Pulau Weh - tsunami, karaoke and loads of time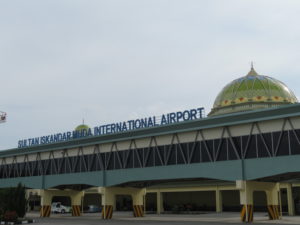 Aceh's small airport looks a bit like a mosque and is really quiet against the hustle and bustle of Medan. As always, there are a lot of taxi drivers at the exit, but I'm sending them away because my hotel wanted to send me a driver. So actually. Hmm …… yes… ..or maybe not?
I try to call the hotel and find that my cell phone is out of battery. One of the taxi drivers lends me his phone and after a long discussion with a gentleman in the hotel it turns out that they have forgotten me (oh no ?!) and that I should please take one of the taxis at the airport at the hotel's expense and they would meanwhile have my room to prepare. All right, everything went well again. My taxi driver is beaming and cycling more badly than right with me. He talks about the big tsunami with his hands and feet - that is apparently what interests all tourists the most ...
The big tsunami on December 26th, 2004 was triggered by one of the worst earthquakes of all time. The epicenter was around 160km off the western coast of Sumatra, Banda Aceh was the worst affected region of Sumatra and the city of Aceh is still deeply marked by the events of that time.
But my driver tells me about the international aid that came from all over the world. Germany, for example, built a hospital and provided the computers for the headquarters. Countless helpers and all international aid organizations were here at the time and helped to endure the horror and grief and to repair the complete destruction and chaos. He tells me about the gratitude of the people of Aceh and recommends that I visit the museum.
But I am undecided, disaster tourism is not my thing ... let's see, maybe on the way back.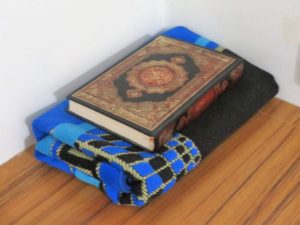 When I arrive at the hotel, the driver actually gets his money from the hotel (which I secretly didn't expect) and I give my room key. My room is very small and has no window (I always find it bad) but the bed linen is clean and the tiny bathroom has a shower with hot water. On the table in the corner is a prayer rug and a Qu'ran in Arabic. This is a "first" for me and now somehow touches. But I am amazed that it is written in Arabic. After all, not every Muslim can read Arabic, right?
In the evening I go looking for a restaurant. The young man at the reception - obviously not used to European tourists - is unfortunately not very helpful and so I have to find out on my own. Just a few steps down the street I find a restaurant, but for reasons I don't understand they don't want to sell me any food there. I couldn't find out whether they will close soon or whether they will not have vegetarian food or not serve women. So I kept looking and found an interesting place after a short time: there are a lot of tables and chairs and two mobile cookshops in front of them that seem to cook for the "restaurant". Of course, there are no tourists to be seen here, but a few locals obviously enjoy the food and so I dare. The two cooks and the young man who served are delighted! Somehow we agree on a vegetarian dish and an iced tea (well, at least I think I ordered that) and the two cooks start to swirl. Every guest who enters the restaurant gives me a curious, but friendly look and although I feel a little bit uncomfortable - as a woman all alone in the evening (it is of course already dark) in the restaurant for locals (mainly men) - I'm glad I came here. And when my meal arrives, I'm twice as happy! A huge portion of delicious vegetable rice, spicy and lots of fresh vegetables, delicious! The cooks watch me with eagle eyes and when I show them my thumbs up they both shine like honey cake horses. I pay the local price for this culinary excursion, which is ridiculously low compared to the tourist prices and the owner of the shop says goodbye to me effusively. Satisfied and satisfied, I make my way back to my hotel.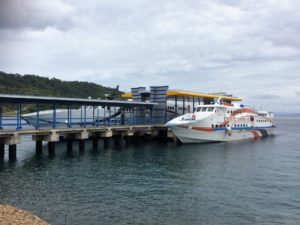 The next morning the hotel's driver takes me to the ferry and shortly afterwards I'm on my way to the island of Weh (Pulau Weh). The ferry is a pretty old thing, but the air conditioning works great! Almost arctic temperatures are supposed to increase the comfort of travel ...... uahh, cold as a pig! There are a lot of hawkers selling food and drink, as well as snacks and snacks. In Indonesia, too, life seems to be more or less about food - somehow I have the feeling that people eat all the time, always and everywhere. 😉
I survive the crossing relatively unscathed and am greeted by storm and pouring rain on the island. One of the taxi drivers got me into his car as quickly as possible and then quickly tried to pick up a few more passengers. When he was unsuccessful with this, he wanted to tell me that I would have to pay a higher price because I had the whole taxi to myself. Of course, I don't get involved in this little game, but make an effort to get out of the car. He hadn't expected that (he probably thought the rain would keep me away!) And he quickly decides that a paying guest is better than none at all.
So we rush off in the pouring rain towards Iboih, where I rented a small bungalow. The road winds adventurously curvy up and down and long stretches through dense rainforest. Small shops, houses, farms and colorfully painted mosques with partly golden roofs line the street and every now and then a cow stands in the middle of the road. In contrast to Medan, time seems to stand still here. The rain stops briefly from Iboih and the sun comes out from behind the thick rain clouds. When I arrived in the small village of Iboih, my taxi suddenly stopped in the middle of the street and my driver asked me to get out. He can't go any further here, he says, and points to a low chain that is stretched across the street. Pragmatically, he vaguely waves his hand in one direction and laconically says that I have to continue on foot from here. So saddled up and off ... the locals look out of their shops with a smile and many wave at me.
The indicated path leads me uphill and downhill for a few hundred meters along the sea, past a few shops and holiday bungalows. Everything looks pretty simple, the atmosphere is chilled and the sea looks amazing. Incidentally, I only see a handful of tourists - they are probably all lying on the beach somewhere. Although ... .. it was raining and storming until 5 minutes ago! Hmm .... ???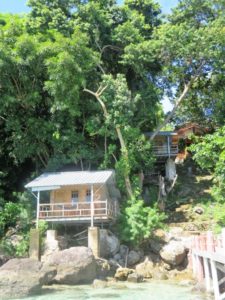 In my hostel I am greeted very friendly and shown to my bungalow. It is very picturesquely located on a steep coast with a fantastic view of turquoise, crystal clear water and a small offshore island. Inside, unfortunately, it does not keep what it promises from the outside, but is very easy even for backpacker conditions. But hey ... you are never in the room anyway! And so I go straight to the adjoining café / restaurant and get to know my entire host family there. The boss is a young Indonesian who walks around without a veil and is dressed in western clothing. Here she leads a friendly regiment with an iron hand. Her sister is visiting from Berlin, where she lives with her German husband. She helps out here, wears a veil and likes to wear the traditional tunic over her jeans. Both women adorable.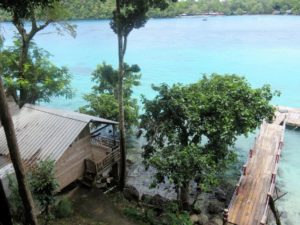 And excellent cooks, as I can see right away. Here I eat delicious chapati, curries, coconut milk rice, nasi goreng and even vegetable pasta and salad most of the days! And of course smoothies every day.
The weather is so-so, because the rainy season is approaching. Every day it rains for a few hours, but the rest of the time you can swim and snorkel right from our jetty. But it's not like lying around on the beach now. So read in the hammock on my balcony, write an article if there is internet (rather seldom) and chat a lot with the other guests and the family and the employees (or friends?). And daily walks to the village. Already on the second day the locals greet me as if I have always been here. This is special here: Iboih is so small that everyone knows everyone and we holidaymakers are somehow integrated into it.
On Saturday evening, one of the nurses, who by the way speaks fluent English and German and studies in Berlin, takes us to a bar. There is supposed to be live music here today. When we (a small group of guests and a few family members) arrive at the bar, the five tables are already fully occupied and we huddle against a high table at the very back. Everyone drinks tea - there is actually no official alcohol here - or juice and they are in a good mood. Most women wear a headscarf, mostly in bright colors and decorated with brooches. They play with it like western women with their hair. They are happy and laugh a lot, talk openly with the men, who in turn treat them very freely, politely and respectfully. So there is no comparison to the gloomy picture that we are familiar with from the Arab countries.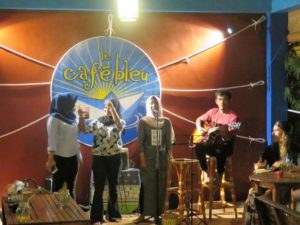 The music starts and everyone sings along. An Indonesian woman, her face full of wrinkles, constantly a cigarette between her wrinkled fingers with age and without a veil but with a baseball cap starts to dance and in no time many people imitate her (more or less voluntarily). Soon a woman takes over the karaoke microphone and then there is no stopping it! Indonesian and English songs, pop, folklore and even real classics are performed here and everyone has a lot of fun!
If you want to take a look, click here for the video. 😀 😀 Warning!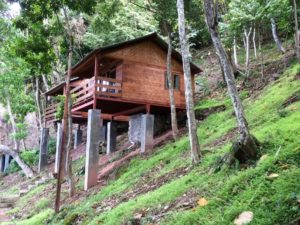 I'll stay in this hostel for a few wonderful days, but then I would like a shower again, preferably warm, so I'm moving to another resort and get a pretty wooden house on stilts with a sea view and a hammock on the terrace and hot water in the Shower - great. Since the weather is now slowly getting a little better, I am becoming more active again and go snorkelling and swimming more.
At the resort I meet a Dutch woman my age who also travels alone. We decide to rent two scooters the next day and explore the island together. Here in Idoih there are no really official scooter rental companies, everything runs through the hostel. Since every local has a scooter here, it is simply rented to tourists if necessary and the owner drives with a friend. So in the morning we meet two young men who hand us their motos with helmet and keys, wave briefly and are gone again. Aha ... so it can be that uncomplicated. (Of course that suits me very well, because I no longer have a driver's license - it was stolen in Moorea) We pack on the machines and jet off to the gas station. But now you can't imagine a gas station like ours - no! In Indonesia (and actually almost everywhere in rural Southeast Asia) it is different! On the roadside there is a small hut that houses a shop where you can buy all sorts of things: cold drinks, fruit, cookies, cigarettes, flip-flops and even gasoline. Filled in liter bottles, the fuel is in bright colors on the shelf and so you can always stop at the roadside, fill up with a liter of gasoline for a moment and then start racing again! I love this uncomplicated, flawlessly functioning pragmatism with which the Asians cover the daily needs of everyone. These businesses are a kind of micro-enterprise and help to support what is usually a fairly large family. Otherwise the people who run these shops would simply have no job and no income. But in this way they fulfill an important task, earn their own money and by the way they are a constant source of wonderful encounters for me! One day I want to fill up the tank and the woman who sells the gasoline is taking a shower in the garden with her baby. She quickly wraps a sarong around her body, sells me the gasoline, and then goes back to the shower. The whole thing is accompanied by a radiant smile.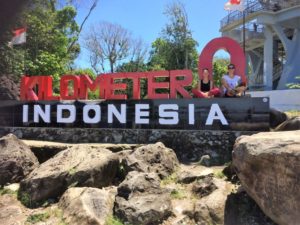 Our scooters drive amazingly well and so we jet through the hilly green landscape in a good mood. All the way up to the Cap at kilometer zero, a lookout point. There is a great view over the cliffs, an ugly monument kilometer zero, a few stalls with souvenirs and a restaurant. We stop here for a drink and sit at the front of the balustrade under a tree, let the cool breeze brush our hair and enjoy the wonderful view. Suddenly a shadow falls over our table, a ball of fur lands on it with an elegant leap, grabs the coke bottle and is already back on the tree before we even noticed what happened. Now the cheeky macaque is crouching in the tree, calmly turning the lid of the bottle, putting it on and eating the rest of the lemonade. When the bottle is empty he gives an angry screech and throws the bottle away. One last disdainful look hits us and with that he makes off. Somehow monkeys are just people ....... We laugh heartily and the bar owner, who had watched us worriedly, is relieved and half-laughing scolds the cheeky macaques.
Our tour continues across the island - we are looking for a volcanic park marked on our map. We didn't hear anyone speak of it and no tour is sold there, but it's marked on the map and we're curious about that. We drive back and forth and back and forth until we suddenly find a rusted sign in the forest. While we are still puzzling whether we could be right here, we see a German tourist with a guide nearby. He's talking about a volcano. So we quickly parked the motos and then unobtrusively chased them.
We walk through the forest for a while, at the beginning there is still a path, already pretty broken and overgrown but still recognizable and even a few signs. Then we cross a dry river bed and rise far on the opposite bank. A kind of rock plateau spreads out here, rough and interspersed with many boulders, it is partly flat and partly steep upwards. All around is dense forest, but nothing grows here. The sun is now beating mercilessly from the sky, it is very hot and here and there acrid, stinking smoke rises!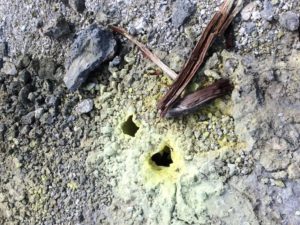 We are there! We are standing on a volcano! And it's murmuring somewhere deep below us, sending smoke and sulfur to the surface. We scramble back and forth over the entire rock plateau and into the adjacent forest, where we suddenly discover a sign again. We follow the suggestion of a former path for a while, but then it becomes too scary for us! The path can no longer be seen, the plants are very dense, so that you can hardly move forward and the guide and his tourist have long since disappeared. So we'd rather turn around and look over the rugged, rocky plateau again, pucker up our noses at the pungent smell of sulfur and decide that it would now be high time to go to a beach!
Said and done! With our moped we drive through tiny villages, try not to knock down either chickens or cows, wave to children and look forward to this wonderful day. When we arrive at the beach, we are almost the only ones. Hardly a handful of people enjoy this special corner of the world. The sand is very light, almost white and the water is crystal clear. Somebody put up a hammock in the middle! Of course, we take turns laying in there! 😀 😀
When we get back to our resort in the evening we are broken but full to the brim with beautiful pictures and exotic impressions. Two days later we set out again to discover the rest of the island.
We pay a visit to the city of Sabang and stroll through the traditional market there. In addition to lots of vegetables and fruit, there are also legumes, spices, dried fish and, as a specialty, ash eggs (in the front of the photo). The market people are super friendly and try to explain to us what the individual things are. Often someone comes out from behind his booth and supports the neighbor who is explaining something to us. Needless to say, this is a tough and very fun way of communicating!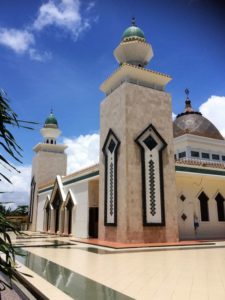 After visiting the market, we take a look at the new and very modern mosque. We are not allowed to go inside (only the men) but outside we are allowed to look and even take a picture. We drive a little more through the city (where the police almost knocked me over once!) But there is not much interesting to see and so we drive on. We find a small café on the beach where we can have an excellent lunch and look far over the sea.
Suddenly thick clouds come in and a cool wind whistles around our noses. In a matter of seconds, the blue ocean turns into a lead-gray mass. Oha! Now let's go - will we still make it home? I don't really feel like getting into a tropical downpour with my Moto …….
Just made it! As soon as I've closed the door to my house behind me, the storm starts already. Fascinating, such a storm - provided you sit dry and safe somewhere inside! 😉
Unfortunately, after a few days I have to move out of my beach house and my Dutch travel companion is leaving. Still, somehow I don't want to go any further. And I can't really decide where to go now ... actually I would like to see more of Sumatra, but the weather is getting worse and worse. So what to do if you can't make up your mind?
I'll see if I can find a nice place to stay for a few more days - and yeah !!! I now live in a house right on the water. The ocean splashes on the shore under my balcony and here you can watch the most amazing colorful fish! There is a wonderful hammock on my balcony, the food in the restaurant is very good and I reach a new level of doing nothing! You can already tell, on Pulauh Weh time runs differently! The days seem to stretch on forever and everyone has time. There is apparently no such thing as stress or time pressure here. The day is determined by sunrise and sunset, ebb and flow. the weather and the constant call of the muezzin. The melodic singsong resounds five times a day and calls the believers to prayer. Then shops and bars are temporarily closed and the tourists are left to their own devices. After the prayer there is seamless continuation of the activities previously carried out.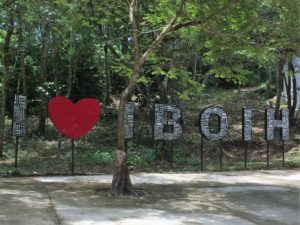 The days flow by and I'm somehow in a kind of feel-good cloud. Absolutely nothing happens and apart from a little snorkeling and going out to eat, I don't do anything and still I feel very good. It's just wonderful!
Anyone who knows me knows of course that it can only last a few days and then curiosity wins over laziness again. So the restlessness is slowly tingling again and I get "ichy feet" (= itchy feet), which means that I once again pack up my stuff and go on my way. Because in the meantime a plan has matured in me again….
My hostess will get me a tuk tuk for the next day, which will pick me up early in the morning and take me to the ferry. Saying goodbye to Iboih and Pulau Weh is difficult for me. I felt really good here and although I want to go on, I'm also a little sad. I stand on my balcony and look out over the sea that gurgles over the stones at my feet. My backpack is packed by the door. The call of the muezzin echoes across the bay. A bird sits in the tree next to my house and welcomes the new day. A horn sounds. My tuk tuk is here - I have to go! ……….
My driver is a happy person! He greets me with a beaming smile, grabs my backpack, introduces me to his wife, who is already sitting in the tuk tuk, and asks me to get in - all in one breath! Man, it's light now and I'm still shaken from the pain of parting! Grace! But no, no mercy! He drives off and she takes over the conversation. So she texts me, mostly in Indonesian (which I don't understand) or in Aceh (which I don't understand either). Every now and then I think I can hear an English word, but I'm not sure. So I just smile at her and let her talk ... at some point the driver asks me if I already have a driver in Aceh, otherwise he could call a friend ... Yes, I'm happy, I accept his offer: I need it a driver for a small city tour with lunch stop and then to the airport. He calls his friend and we come to an agreement quickly.
In fact, in Aceh, there is a man with a sign with my name on it and waiting for me - seems like a good business model! I am happy that he is there and that I don't have to fight my way through the whole pack of taxi drivers looking for customers. As soon as they see that you have already stayed with a colleague, they lose all interest and you can start walking completely unmolested.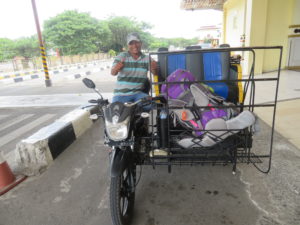 My Aceh-Tuk Tuk is brand new and even has a built-in WiFi router! Have you seen anything like this before ??! As if you couldn't do without internet even on such a small tuk tuk ride! Where did we get to? The driver is of course extremely proud of his modern tuk tuk and his internet connection (of course the router is a fake and he lets customers surf the web via the hotspot of his phone!) 😉
Anyway, we first have a cup of tea and decide the route for my tour. He drives me to a kind of tea house and pastry shop, where the drivers obviously meet when they don't have a tour. He gets tea and some sweet little things and everyone in the shop watches me (as the only tourist) more or less unabashedly while I try them. My driver recommends I should definitely visit the Tsunami Museum, the generator ship, the memorial and the mosque. I don't have any objections and so we head off.
Banda Aceh is an unadorned, relatively large city, located directly on the ocean. The great tsunami razed everything almost five kilometers inland. In just a few hours, much of the city was simply torn down and washed away. Only one mosque remained, which the people here interpreted as a sign from God. The Aceh region was involved in a terrible civil war at the time, because the region wanted to be independent from Indonesia. Much blood was spilled and the war was brutal. But the tsunami changed everything - Indonesia "forgot" the war and came to the aid of the region. The Acehsen said "Allah is angry with the war" accepted Indonesia's help and ended the war. Today most of the Acehsen seem to have made their peace with Indonesia.
But the city is poor. Not even two decades old and yet I see decay and poverty everywhere. At that time there was a lot of help and money from everywhere, new houses were built, roads and infrastructure were restored and what could be saved was restored. Anyone who could prove that they owned a house before the tsunami got one from the state afterwards - as far as the theory goes. Of course, this actually laudable approach did not work, but many have enriched themselves where they were actually not right and many came away empty-handed even though they would actually have been entitled. And the very poor were the very poor again after the tsunami.
Nevertheless, I would like to mention here that the whole world helped here back then. People, goods, know-how and a lot of money came to the disaster area and helped. The people here are very grateful for that. Many say that overall they are doing much better now than they were before the tsunami. And they are happy that a few tourists are now coming back to their area. The tourists would at least give a few more jobs. He has now finally managed to buy a tuk tuk and so he now has the opportunity to earn something every day and that means that he belongs to the middle class here.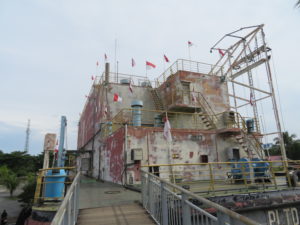 He tells me all of this while we speed through the city to our first sightseeing point: a huge generator ship. Rusted and broken it stands somehow in the middle of the landscape. Today it is a museum and I also walk around in it for a while, but unfortunately all the boards and signs are only written in Indonesian, although most of the visitors are clearly foreigners.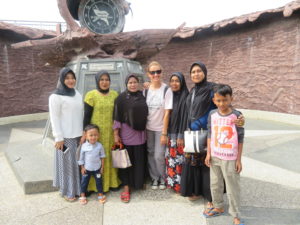 When leaving, a young woman in a headscarf approaches me shyly and asks if she could take a picture with me. Of course, I nod and I see myself surrounded by a small gang of women and children wearing headscarves and chirping, all of whom want to be on the photo. This scene is repeated several times in the course of the day in a similar way and I wonder what the women want with the photo in which some strange white tourist is to be seen ...
I want to know from my driver why this shipwreck would be here - the tsunami would have torn it loose and carried it inland, almost three kilometers from the coastline! Oha !! Only now do I understand - man, this is a giant ship! And it was in operation, so full of generators and what kind of heavy machines I know! This tsunami must have had an unimaginable force ......
We stop at a memorial, where marble slabs record the suffering the people here had to endure and the degree of destruction caused by the quake and the subsequent flood. It's just unthinkable! Right next to it, the people of Aceh express their gratitude: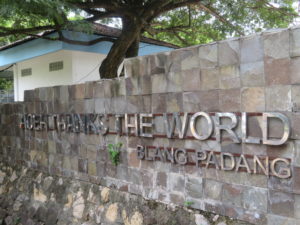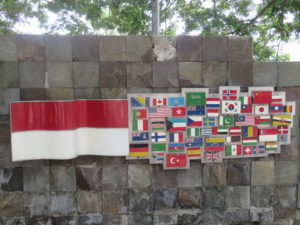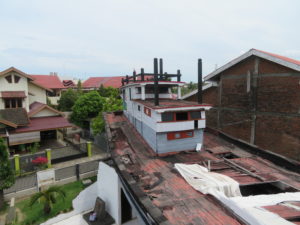 On our way to the museum we crisscross the city and again and again I see big boats and shipwrecks standing somewhere, memorials to a catastrophe that has cost the lives of around a quarter of a million people.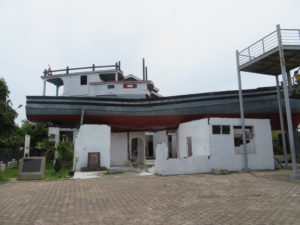 At one point a large ship lies on the remains of a house, a bizarre, surreal picture. And don't forget, that's several kilometers inland! Of course, everything is now full of houses again and so the whole thing looks even more abstruse.
Finally we arrive at the museum; a gigantic building that made the ideas of an Acehnese architect about the tsunami cast into concrete a reality. A claustrophobically narrow, dark corridor with walls of water leads into the interior of the museum, where pictures and photos of the disaster can be seen, as well as eyewitness reports and videos. Interesting facts complete the information package and although it is not the most beautiful museum in the world it is worth a visit.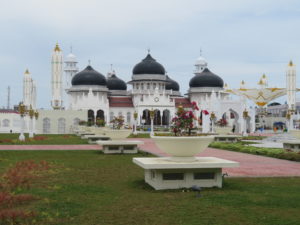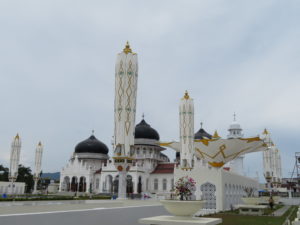 On the way to the airport we pass the beautiful mosque of Banda Aceh. And then we're on the big arterial road towards the airport and all of a sudden my Sumatra adventure comes to an end. I've met wonderful people here and once again realized that neither skin color nor religion makes any difference. All people have the same needs and desires. All love and fear the same thing. Friendliness and helpfulness can be found all over the world and it doesn't take much to have all these positive experiences! A little more openness. A little bit more tolerance. And maybe a little less arrogance. A smile. Say thank you from the bottom of my heart. Show joy ...... actually not that difficult!