How dog friendly is Lisbon
Vacation with your dog in Portugal | Facts, tips + experiences
How is it going with the dogs in Portugal? How you can / should prepare for your Portugal vacation with your dog, where you can go to the beach with your dog and where not, I can shed some light on that.

And your opinion of a vacation with your dog in Portugal could be dark if you wanted to find out more about it on some other websites. I have already read quite a bit - that dogs are banned everywhere in Portugal, that it is better to lock your dog in closed rooms because of poison bait and Mediterranean diseases, etc. So here you get the information about how it looks in practice, and not only what the law is like. And practice, we can show it: let's travel all over Portugal with two dogs.
---
Portugal, the dog paradise

I would like to say one thing right away: Your dog will love Portugal. Of course, only if you show him the nice, dog-friendly corners. That is the untouched nature, when hiking in the nature parks. Or the long walks on the sandy beaches, some of which are kilometers long, on the west coast. Such a cliff hike is of course not to be despised. Water rats in particular can get their money's worth in Portugal: many kilometers of coastline, numerous rivers, streams and reservoirs want to be tested.
Portugal is not densely populated, especially off the coast. Here you will find plenty of space for you and your dog.
Portuguese dogs don't know a leash
Dogs in Portugal roam free. In every village you will see dogs lying around in the alleys or prowling around. Which doesn't automatically mean that they have to be strays too. Many have free time during the day and go home in the evening. So a free life that knows no leash. And it is precisely these dogs that are extremely well socialized. They take care of each other, but at the same time they are conflict-averse. They are open-minded to foreign dogs, he is greeted and sniffed immediately.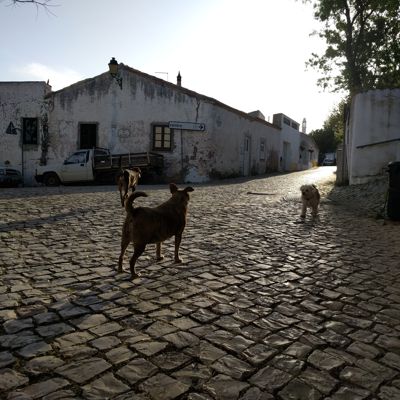 The handling of the Portuguese with their dogs is generally kept quite simple. Dogs are often not neutered, which of course means unwanted offspring. There are already enough stray dogs. The state facilities are not optimal, especially since the "Canels" are only kennels that kill picked up dogs after a week. In some cases, there is close cooperation with private animal welfare organizations who then take in these dogs - and have to feed them, treat them medically and mediate them without any government assistance. That this works is only thanks to the voluntary commitment of many people.
Of course, there is also a downside: It's a bit like in Spain: they like dogs, but not all of them treat their animals well. Dogs are kept as living alarm systems, especially in industrial areas. During the day they live in the workshop or in the kennel, at night they are supposed to guard the fenced area. It's not as bad as in Spain, nor have I seen a lot of chain dogs in Portugal. But that's not nice either.
And there are actually a lot of strays who don't have a home. We see a lot of them in beach parking lots. They live there and get something to eat from the visitors from time to time, but they are also happy to be petted. Some of these dogs are pretty good-looking - which is because they are looked after. Locals regularly bring food and take care of their medical care. So these dogs have a free life and are still taken care of. Of course, that doesn't apply to everyone, and so you keep seeing animals that just don't look good.
Basically, I am very impressed with the dogs in Portugal. Most different animals live here in harmony with one another, and Portuguese dogs also know how to deal with traffic very well. They are ubiquitous and problems rarely arise.
Beware of herding dogs
In some places there is a herd of sheep or goats running around without a shepherd or goatherd. But with a herding dog. And they usually take very good care of their sheep. If such a herd crosses your path, then you should be in control of your dog. If they want to hunt an animal, then the herding dog takes care of it, because that's his job - and he takes it seriously. They are big dogs that are also good at gripping. And many a friend has already had an unpleasant experience with these. The good thing is: you can usually hear such a herd from afar, because some animals have bells tied around them. There is enough time to call your dog over to you.
Dogs are not allowed in here
Dogs are prohibited by law across Portugal in the following places:
Public buildings
Public transportation
Restaurants
This means, for example, that a city tour of Lisbon with a dog is not fun. Because you cannot use all the buses and trains. What it looks like with dogs in taxis and TukTuks, I can't say. In any case, it makes more sense to accommodate the dog well - which may be a good idea in the busy city anyway.
There is probably no dog ban in Portugal on state trains and buses, but a muzzle obligation. However, I lack experience to say something more precise about this.
The thing about the restaurants is actually quite funny: in the country in particular, the landlord's dog hangs around in the guest room. In fact, dogs are not allowed in, and now comes the crux of the matter: often no food is served on the terrace. There may be exceptions to this, but this is the rule. This is no break for us, because we always go to a restaurant in the evening, from 7 p.m. The dogs just stay at home.
At the end of 2017, a law was introduced that in the future should be left to the restaurant operator to decide whether he wants dogs in the restaurant or not.
With the dog on the beach

Most beaches have a "beach dog". A stray who lives on the beach or a dog who wanders around here during the day and goes home in the evening. Sometimes it's a small pack too. Not all beach dogs are homeless, they just have free space during the day! These dogs are well socialized and conflict-averse. So if you are traveling with a somewhat "more strenuous" dog, do not worry. Leave him on a leash, the beach dog won't feel like this excited guest dog. If your dog is better socialized, take the leash off. And before that, a flea drug on it. Better is this.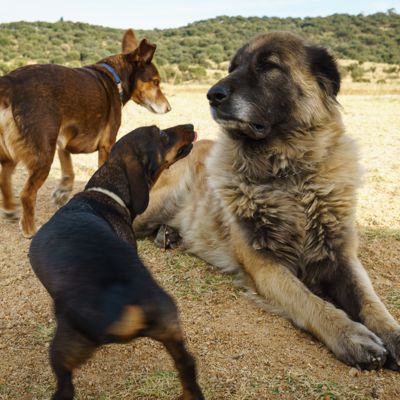 On some beaches, especially near the city, you will find a "dogs forbidden" sign. In the main season you should certainly take this seriously. In the off-season, however, these signs - like many others in Portugal - are viewed more as a "recommendation". There are some special dog beaches in Portugal, but these are not really necessary. Just find a beach that isn't busy and you won't have any problems. And there are really many beaches in Portugal. I also assume that you don't want to spend a city holiday in Portugal with your dog anyway.
Protect your dog from parasites and Mediterranean diseases
If you are planning a vacation with your dog in a southern European country, you should always protect your animal from so-called Mediterranean diseases.
Particularly "popular" in Portugal are:
Fleas, often transmitted by strays
Leishmaniasis, transmitted by sand flies
Heartworms, transmitted by mosquitoes
Also:
Ticks, depending on travel location and season
Worms, if you are out and about a lot in nature
There is the Scalibor collar, which most Portugal vacationers use, as do we. It releases the active ingredient deltametrhin over a period of six months and is supposed to protect against bites from ticks and bites from mosquitoes, sandflies and butterfly mosquitoes. It is therefore a good all-purpose weapon for holidays in Portugal. The Scalibor collar is white and elastic, available in different lengths and is easy to cut.
It should be noted that the collar is only partially water-resistant. I have at least one dog as a water rat, and a second water-shy dog. The Scalibor collar from the water-shy dog ​​works longer. In addition, the Scalibor collar for aquatic creatures emits toxic substances, which is why it should be removed before the dog jumps into the water.
It is still recommended, especially since it is probably less the chemical bomb like Advantix or Frontline. Some dog owners have also reported side effects (coat loss), so please watch the more sensitive dog as much as possible to see whether it shows symptoms.
Important: Scalibor and a product like Advantix must not be used at the same time! If you consider it necessary to apply Advantix to your dog, then you should remove the Scalibor and wait at least a week until its active ingredients have broken down.
Heartguard - against heartworms
Since my dog ​​doesn't have a completely healthy heart anyway, I definitely don't want him to get heartworms. At a veterinary clinic in Portugal, I was told that heartworms are a big problem - especially near lagoons, and you can find them again and again. So I got Heartguard. You can only get this from the vet. Because it must be tested whether your dog is not allergic to the agent, a short blood test is done. Without this you must not give your dog Heartguard, an allergic reaction is fatal!
We also have:
Worming tablets
Flea comb - because otherwise you can hardly see the little beasts
Advantix - helps against acute flea and tick infestations
You can get the Scalibor and Advantix in every pharmacy in Portugal. The prices are about the same as in Germany. Incidentally, far fewer drugs require a prescription in Portugal, at least compared to Germany.
Veterinarians in Portugal
Medical care is not a problem at all in Portugal. There are veterinarians in every small town. So far, all (three) vets that I had to consult have also spoken English. In contrast to Germany, Portuguese vets do not have an arsenal of medication in their practice, but you can get a prescription for the pharmacy. In my experience, drugs are similarly expensive or slightly cheaper than in Germany.
Entry requirements for Portugal
Portugal is a member of the European Union, so the usual rules apply:
EU pet passport
Identification chip
Rabies vaccination
Where should it go? Tips for your vacation with your dog in Portugal

Honestly? It's pretty beautiful all over Portugal. There are nature parks with mountains and on the coast, you can hike, geocache, surf - and your dog is always with you. If you are exploring the country by rental car, clarify beforehand with the landlord that a dog should come with you. It is always better to say something like that beforehand. The same applies of course when booking the accommodation.
With the motorhome in Portugal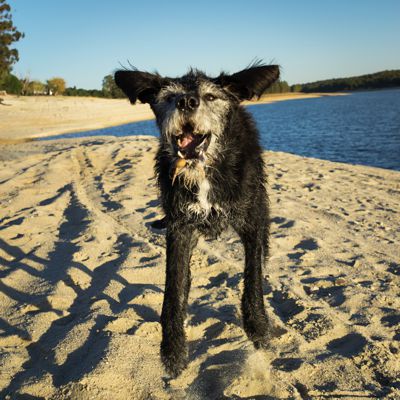 Dogs are always allowed on campsites or RV sites, and I rarely have to pay an extra fee for the dog. At some campsites, however, we met a pack of cats, which is perhaps the bigger problem, at least when you travel with a hunting dog like me. The Portuguese cats are used to dogs and know how to assert themselves.
With list dog to Portugal
I searched the internet, but found nothing: It seems as if there are no "list dogs" in Portugal. If you arrive with your own vehicle (camper, etc.), however, you have to travel through France. There they have far stricter regulations. Even if there are in fact no more border controls, I should like to have said so.
Vacation in Portugal? Good idea!
If you are not dependent on public transport, then you are in good hands in Portugal! It is a great country with a lot of untouched nature. And the chance of lots of great dog encounters - if that's what you want 😉