Why should we talk to others
Communicate better: 8 helpful tips
Customer loyalty | 10/10/2019
When do you communicate correctly?
If we want to have respect, esteem, approval and success in life, we have to make sure that we talk to other people in a way that makes them feel comfortable. Because only then will they be happy to listen to us and help us achieve our goals better. But how do we best talk to people when we know that they are very diverse and therefore want to be addressed differently?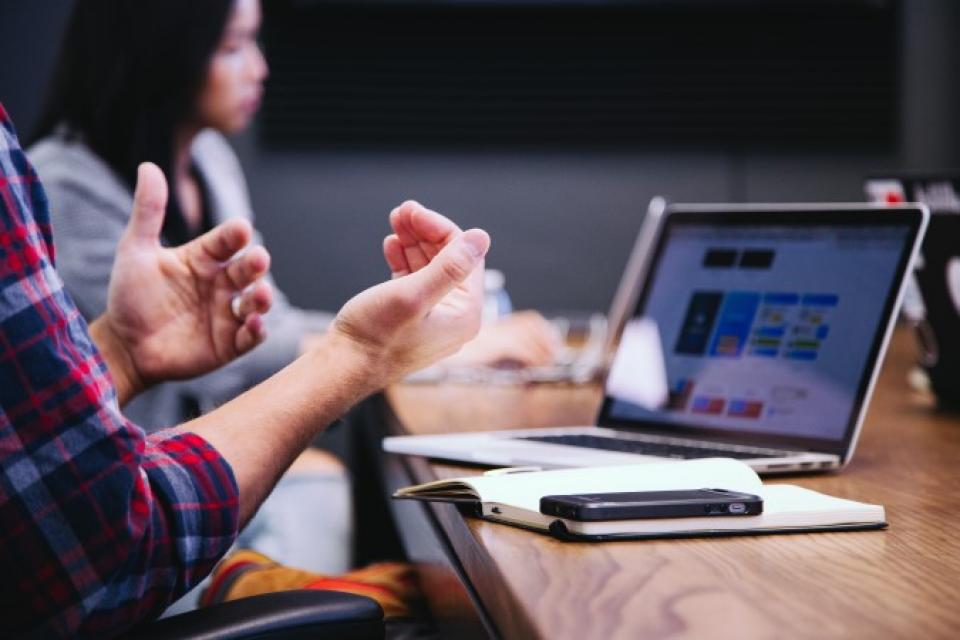 8 helpful tips on how to communicate better
Make sure you have the right attitude during a conversation
Speak clearly and clearly
Correctly recognize the behavioral style of your interlocutor
Acquire the knowledge of the 4 communication styles
Mirror the person appropriately
Let the other person do the talking first
Know and consider the 3 influencing factors in a conversation
Improve communication when talking to several people
1.) Pay attention to the correct inner attitude during a conversation
Communicating correctly means wanting to be understood. With this attitude, we can more easily acquire the knowledge for better communication.

2.) Speak clearly and clearly
Optimal communication means that we speak clearly when other people are supposed to understand us well. We can do this very well if we open our mouths wide enough so that the letters have enough space to sound clear. A tried and tested tip is to read a small piece of text aloud with a cork in your mouth. Then take the cork out and read the text again. You will find that you speak much more clearly afterwards. It is also important not to simply swallow word endings, but rather to pronounce them, e.g. with the words "invoices" or "orders". But that alone is not enough if we want to communicate better.

3.) Recognize the behavior of your interlocutor correctly
It is helpful to recognize right at the beginning of a conversation in which way the person prefers to communicate: personal, friendly, short and sweet, loud, quiet or detailed. With the help of the LIFO methodology (LIFO stands for Life Orientation), which describes 4 different behavior and communication styles, we can quickly and correctly identify the preferred behavior of our interlocutor. Depending on the situation or type, people prefer to use one or the other style when communicating. It is important to recognize this right at the beginning of a conversation. We can recognize this in a phone call, by the writing style of an e-mail or by the personal demeanor of a person.
4.) Acquire the knowledge of the 4 communication styles according to LIFO
The LIFO method is one of many well-known methodologies that help us to use the right wrapping paper by using the right vocabulary for our interlocutor. Only in this way will he be happy to listen to us and be open to our words. The trend is currently higher than ever to improve one's own actions and communication with the help of such methodologies.
The LIFO method describes 4 communication styles:
happy, fast, erratic, easy
friendly, detailed, helpful
Objectively, quickly, briefly, loudly
Factual, detailed, correct
In order to quickly jump into the correct communication style of our interlocutor, we should assess our own style correctly and master all other 3 styles. How much we have to improve our own rhetorical skills in order to be able to master all communication styles depends to a large extent on the skills we have already acquired. The better our knowledge of different speaking styles, the faster and more correctly we will find the right communication style for our conversation partner.

5) Mirror your conversation partner appropriately
Knowing the preferred communication style of our interlocutor is one thing. Now, having the courage to jump into this style is something else. Most people fear that after jumping into a different communication style, they will not appear authentic and that the person you are talking to might notice. The opposite is the case. The other person will find that you are making an effort to match your communication with your own and that will feel wonderful to them. When speaking, it is only important that you do not switch to a completely different communication style in the middle of it.
A successful reflection of our interlocutor leads to the fact that he feels attracted to us and safe. He will then be happy to talk to us.


6.) Let the other person speak first
A helpful tip is to let the other person speak first with a suitable introductory question. Our interlocutor will feel comfortable because his opinion is important to us and he will want to have the conversation with us.
The responsibility for a successful conversation always rests with the person who opens the conversation, because they must ensure that the recipient understands everything correctly and feels comfortable.
If you say something like "you got it wrong" or "I didn't say that" you are coming out as a person with limited knowledge of professional communication.

7.) Know and consider the 3 influencing factors in conversation
When people meet, they interact with their body (55%), their voice (38 - 56%) and the spoken word (7%).
Since the interlocutor cannot always see us, e.g. when we talk to him on the phone, we have to pay much more attention to a suitable voice if we want to influence our interlocutor successfully. About 80% of us use our voice on the phone. For example, we can speak as follows: loud, quiet, fast, slow, personal, factual, friendly, happy, short, detailed, etc. If the person we are talking to likes to listen to us, we have spoken to him correctly.
8.) Improve communication when talking to several people
We need the most sophisticated knowledge possible about how people take in information and what the communication style must be so that they like to listen to us. I deal with this topic in my telephone seminars, for which you are welcome to book a place.
The following tips will help you communicate better in a group:
Speak loudly and clearly that everyone can understand
Make eye contact with everyone as you speak to make you appear more confident and make everyone feel meaningful
Pay attention to a varied tonality in your communication so that the curiosity about your words remains
you can quickly find the troublemakers at a lecture or seminar and speak to them. Or, include these people in your program to keep them busy and feel important
Do not criticize anyone, especially in the presence of others, but ask with interest why the person shares this opinion
Find out about your interlocutors in advance in order to have answers ready or to surprise them positively
you will learn to bring complex issues to the point in 1 or 2 sentences so that as many people as possible will be happy to listen to you
Correct communication also requires an appropriate structure in the conversation so that everyone can follow you in terms of content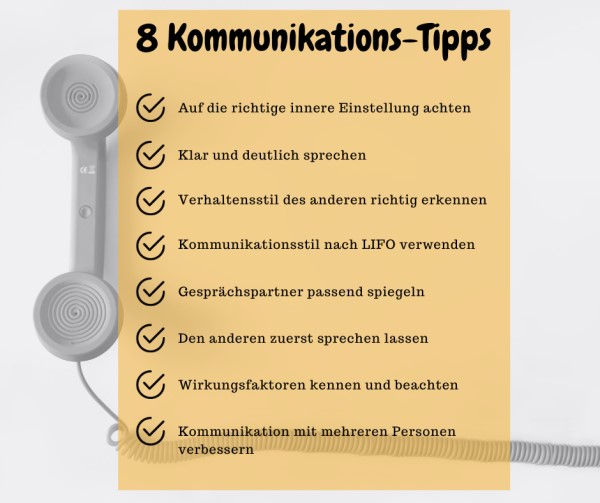 ---
People never stop learning when it comes to communicating properly and better. Those who invest in better communication styles will definitely achieve more in life.
To the communication seminars.
---
author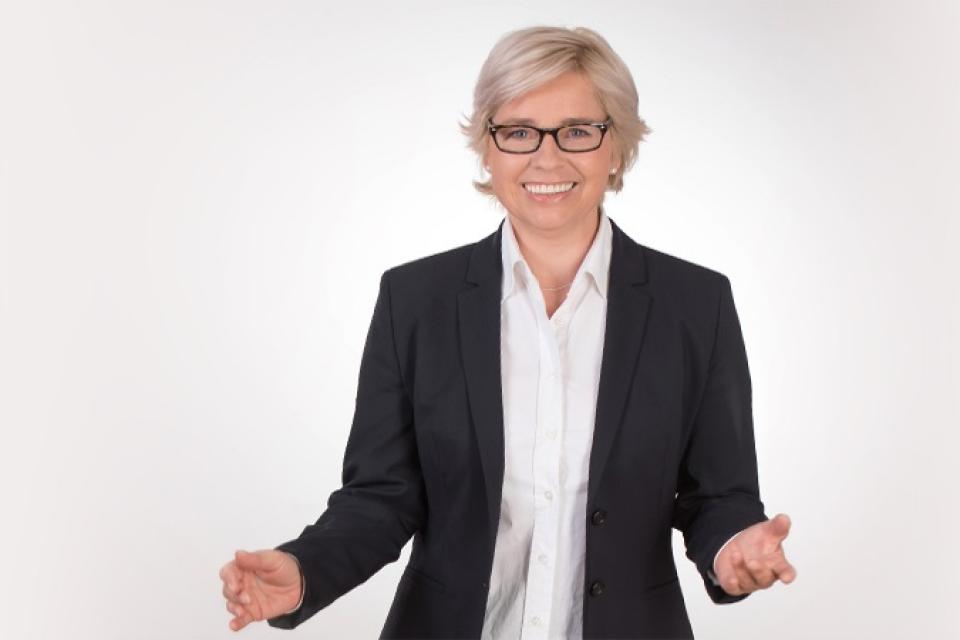 Elke Klofer
Trainer for customer acquisition and customer loyalty
Elke Klöfer's blog
In her blog, Elke Klöfer shows how we communicate correctly and how we are successful on the subject of: "Sales promotion measures through the conscious use of the voice and the spoken word on the phone."