What's your favorite Italian pop song

These 21 Italian songs will get you in the holiday mood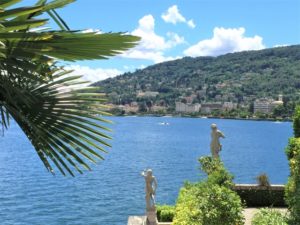 You may be familiar with the fact that you are looking forward to your vacation in Italy for a long time, but as soon as you are there, the time is already over. Holidays in Italy are always too short, aren't they? Back home, I often listen to Italian songs to keep the holiday mood.
But even if you are planning a road trip through Italy, an Italian playlist should of course not be missing. But which Italian hits definitely belong on your list? Sure, you probably think of Eros Ramazzotti * first when you think of Italian music *. It was no different for me. But he's released so many songs in his long career that you might not immediately filter out the big hits if you google his music. There are also so many other great performers. I have compiled my favorite Italian songs and artists and I hope that you like my selection.
Azzurro (Adriano Celentano)
Se bastasse una canzone (Eros Ramazzotti)
Cose della vita (Eros Ramazzotti and Tina Turner)
Piu bella cosa (Eros Ramazzotti)
Felicita (Al Bano and Romina Power)
Bello e impossibile (Gianna Nannini)
Un'estate Italiana (Edoardo Bennato and Gianna Nannini)
O sole mio (Luciano Pavarotti)
Ti amo (Enzo Belmonte)
L'italiano (Toto Cutugno)
Impossible (James Arthur)
Laura non c'e (Nek)
Danzere (Vito Lavita feat.Toni Tuklan)
Perdono (Tiziano Ferro)
Amore per semper (Nevio Passaro)
Baila morena (zucchero)
Gloria (Umberto Tozzi)
Ti sento (Matia Bazaar)
Per Elisa (Alice)
Via con me (Paolo Conte)
Sara perche ti amo (Ricchi e Poveri)
Many Italians are also totally into Vasco Rossi * and Laura Pausini *. If you like it more classic, you can of course not ignore Andrea Bocelli *. And finally a little tip: Nek * was only successful in Germany with "Laura non c'e". He released an incredible number of other songs and is still a regular in the Italian charts today. Well worth hearing your way through his other songs. Recently I also discovered "Il Volo" * for myself.
Do you know one or more Italian songs that make you want to go on vacation and that I haven't mentioned here? Than let me know. By the way, did you know that I use Italian music to improve my language skills? If you would like to learn Italian, here are some tips for you.
Continue reading: You will get even more Italian song recommendations from charts and co. In my second text about Italian songs. And here you get tips for your summer playlist. If you are driving to Italy soon, you should perhaps read this text about tolls in Italy.
Are you tired of music? Then take a look here. *
Fancy Italy?Here's more inspiration. *
Not sure which region in Italy to visit? Then take a closer look at this travel guide *.
* = Affiliate link / advertising: If you buy something via these links, I get a small commission. You do not have any disadvantages and there are no additional costs for you. I only recommend products that I am convinced of myself.