How to Convert CDA to MP3
How can I convert CDA to MP3?
Introduction.
Actually, CDA format does not exist at all. CDA means CD Audio, and there are no files on Audio CD. When an operating system detects an audio CD, it reads basic information from the CD, including track number, CD Text (if any), total duration, etc. The operating system also creates CDA shortcuts to provide easy access to CD tracks. However, CDAs are not actual files and are impossible to select and copy as usual. The audio tracks are not copied and CDA links are unusable without the corresponding audio CD.
So if you want to convert CDA to MP3, you should rip your audio CD. CDA links cannot be converted because they contain no audio data.
We are now looking into how to convert CDA to MP3 with AudioConverter Studio.
Step 1: Download and install the program.
Download AudioConverter Studio to a folder on your computer. Start the installation and follow the instructions.
Step 2: insert your audio CD. Start the program, select the title.
Insert the audio CD that you want to convert to MP3.
Start AudioConverter Studio. By default, the program starts in assistant mode. If no wizard appears, you can press "Ctrl" + "W" on the keyboard, or click "File" - "Show Wizard".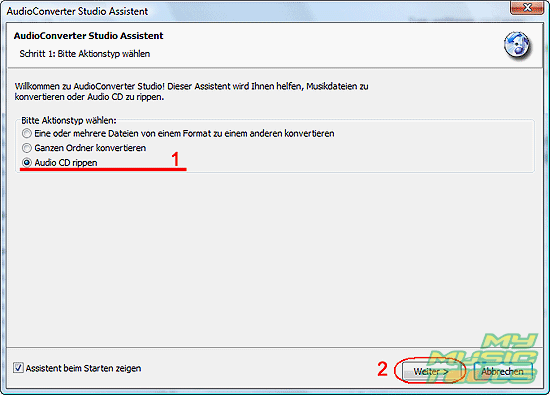 Select "Rip Audio CD", click "Next".
If you only have a CD / DVD drive, your CD will be recognized automatically. AudioConverter Studio reads CD Text to get information about tracks. If no CD Text is available, the program fetches information from the Internet:

Now the track list is displayed in a user-friendly format, with track names, artists, etc .: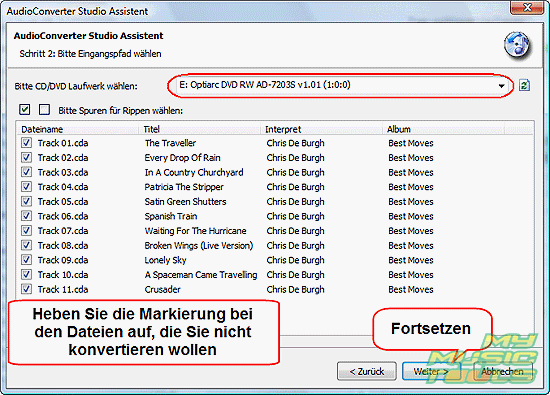 If you have more than one CD / DVD drive, you may need to select the correct drive from the drop-down list.
Click "Next".
Step 3: Set the output folder and file name format.
AudioConverter Studio offers to set output folder (1) and file name format (2):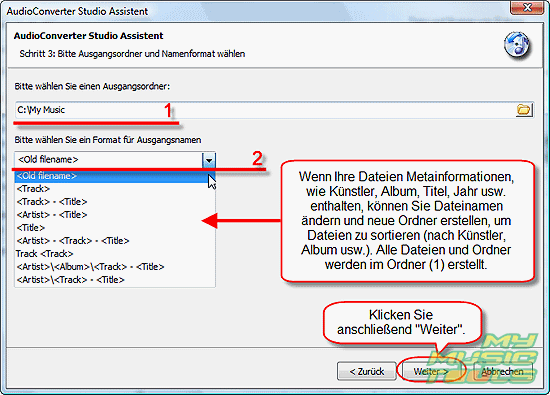 You can use any folder on your computer (but make sure that you have sufficient permissions to the folder).
The filename format option allows you to specify a pattern for filenames and folder names. This means that the converted files can have user-friendly names and can be sorted by folder according to artist, album, etc. The information for file names and folder names is obtained from CDDB, or from CD Text (if available).
Click "Next".
Step 4: adjust the output format and quality.
On the next page of the wizard, set MP3 as the output format: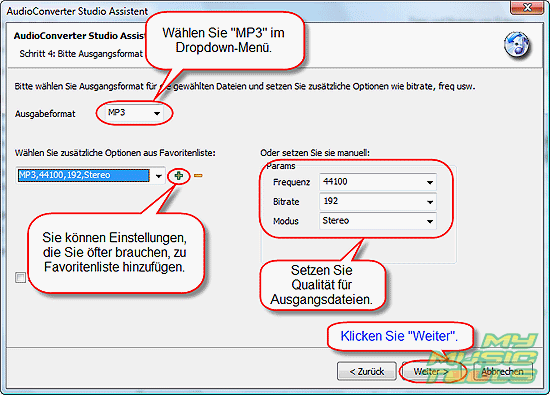 We prefer 44 KHz, 192 Kbps, stereo, but you can adjust the quality settings to suit your preference. The full range of MP3 bitrates is supported.
"Preview conversion" means that only a few seconds of a title will be converted. We want to convert all of the titles, so we don't check the option.
Step 5: check everything. Convert CDA to MP3.
The last page of the wizard shows a summary. You can check all settings again here.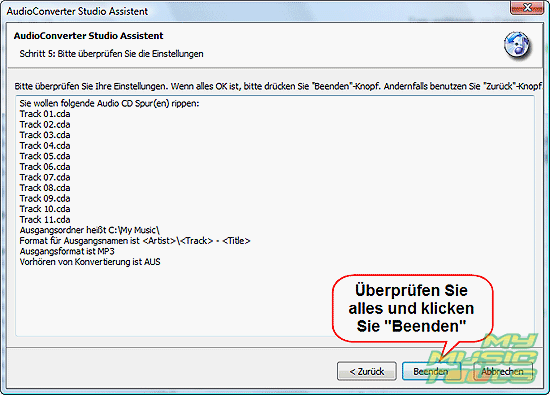 If everything is OK, click "Finish" to rip your Audio CD. The converted MP3 files can be found in the folder you entered in step 3.
The trial version of AudioConverter Studio can be used for 30 days without any restrictions.
Side of the product