America will exist forever
Corona crisis: real hunger in Hollywood
The huge dome is reminiscent of a spaceship that landed somewhere in a large parking lot in Los Angeles. That suits Hollywood. For decades, the film metropolis was a dream factory that carried the world away into other worlds.
The new SoFi Stadium is expected to cost five billion dollars. Financed privately. The construction site is teeming with yellow vests. You could almost think that you would have landed in pre-pandemic times with a time machine - if it weren't for the many brown cardboard boxes in the parking lot. And the long lines of cars, the opened trunk waiting to be loaded.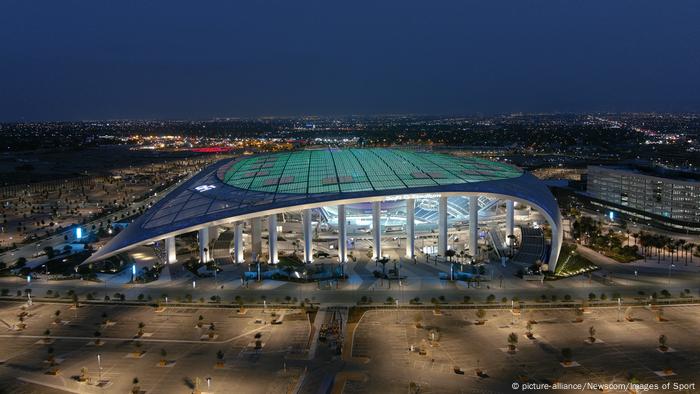 Futuristic place for feeding the poor: The new stadium in Inglewood, Los Angeles
Everything different in one fell swoop
"Sometimes I have to cry in the evening. Because my children went to bed feeling hungry." Maria Rojas is 38. Until recently, she and her husband had a decent living and were able to lead a regular life with their five children. The meals that were available at school also helped. Until it was closed because of the pandemic.
Maria worked as a hairdresser, her husband as a simple craftsman. In March everything was different in one fell swoop. Hollywood closed, the tourists stayed away, the restaurants closed. More and more lost their jobs, almost overnight. People could no longer afford a hairdresser, and repairs in the houses were done by themselves - or not at all. All of a sudden, Maria and her family had no more income. Only rents have remained horrific in this part of America. COVID-19 has not changed that.
No check from Donald Trump
It is true that President Donald Trump generously distributed checks for several thousand dollars, depending on the number and age of the children and personally signed. But only to families who had filed a tax return. The Rojas had other worries this spring. There is actually unemployment benefits from Washington. But Maria and her husband didn't understand how to fill out the many forms and then just gave up, she says.
She was a little ashamed when she set out this September morning to drive into the stadium parking lot. "It is the first time that I drive to a food counter." She looks down at the steering wheel of the silver Hyundai that has seen better days.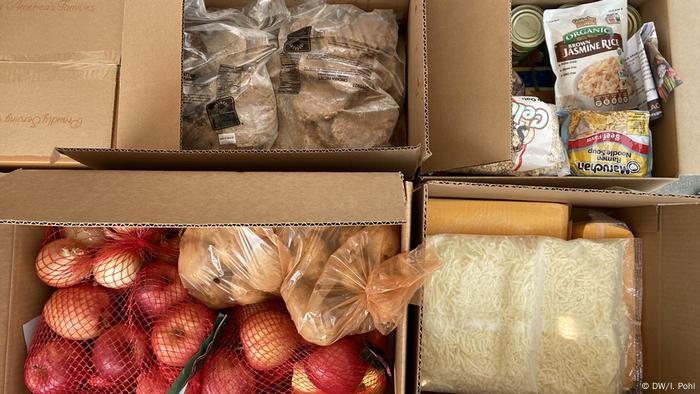 Necessary food for people in need
There are four boxes, each weighing 80 pounds, per family. With cheese, rice, dry noodles, beans, tins, frozen meat. The distribution action is planned according to the general staff. Professionals are at work here to ensure that the cars drive up quickly and that the trunk is opened. Volunteers load the parcels, then the next car can come without any potentially dangerous personal contact. Here, too, the risk of corona infection should be kept as low as possible.
More and more calls for help
"The calls for help that reach us from starving people have increased significantly," explains Michael Flood. He is the executive director of the regional food bank in Los Angeles. The United States is used to dealing with disasters and helping people in need with food.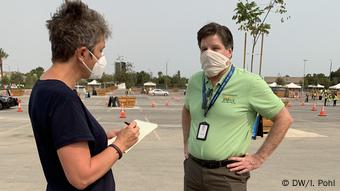 Michael Flood in conversation - and always in action
But the situation in Los Angeles has not been as bad as it is now since the Great Depression in 1929. "Unfortunately we don't have the security systems we have in Europe," says Flood. There is still a lot of room for improvement in the USA. He doesn't want to say more about the upcoming presidential election.
But Flood is grateful that the Department of Agriculture (USDA) helped so quickly and bought all the food from many farmers that would otherwise have rotted away because so many restaurants and schools are closed. "We help distribute this food and buy more food with donations," he says.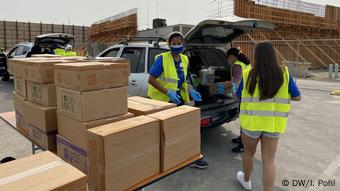 A feat of strength: the distribution campaign
It took three hours that day in September to distribute the 9,000 boxes. Food for almost two weeks for 2,300 families, say the organizers. Before the pandemic, his organization, with the support of other institutions, was providing food to 300,000 needy people a month. Now there is an average of 900,000. "We assume it won't get better anytime soon," says Flood. "And who knows, it might even get a lot worse." Every second person in Los Angeles is now in financial straits, says Flood. And that in a large area with over 13 million people.