Omega-3 fatty acids (fish oil): effect, dosage, dangers, animal or vegetable?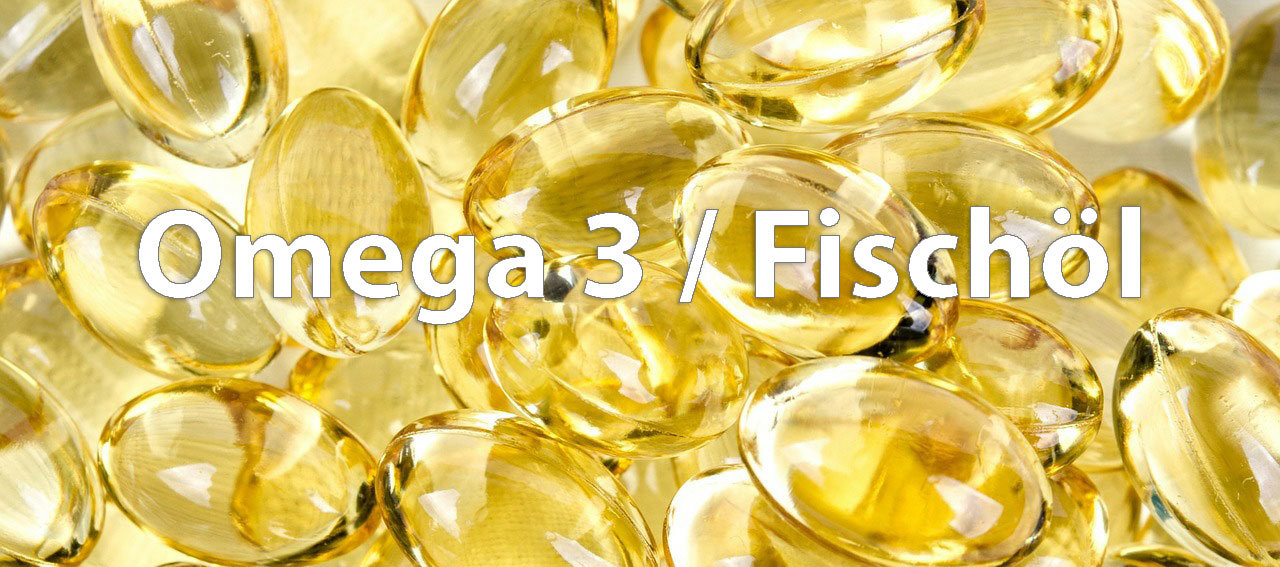 You mainly get omega-3 fatty acids from fish, seafood and omega-3 supplements.
The following omega-3 fatty acids are responsible for most of the positive effects attributed to fish oil.
Eicosapentaenoic acid (EPA, 20:5 )
Docosahexaenoic acid (DHA, 22:6)
Another omega-3 fatty acid is onealpha-linolenic acid (ALA, 18: 3), which is increasingly found in plant-based foods. ALA does not have the same effects as EPA / DHA and is therefore a poor substitute for them.
1. Which foods contain a lot of omega-3 fatty acids?
EPA and DHA sources (Grams in EPA + DHA):
100 g salmon (Atlantic, raw, farmed): ~ 2 g
100 g sardine fillets (canned): ~ 1.3 g
100 g mackerel fillet (cooked): ~ 0.8 g
1 can of tuna (in water): ~ 0.5 g
ALA sources (Warning! No EPA + DHA):
1 tbsp flaxseed (15 g): 3.2 g
6 walnuts: ~ 2.5 g
1 tbsp chia seeds (15 g): ~ 2.5 g
1 teaspoon rapeseed oil: 0.4 g
1 teaspoon olive oil: 0.03 g
Source: Nutritiondata.com
2. What are the effects of omega-3 fatty acids (fish oil)?
Omega-3 develop their effects mainly through anti inflammatory Effects, effects in immune system and in defense of oxidative stress. They also play an important role in Brain and eye function.
Due to the wide range of effects, omega-3 fatty acids are often presented as "all-rounders". But what do the results of the studies really tell us?
2.1 Training and muscle building
For athletes, a beneficial effect of omega-3 fatty acids for better general health is being discussed.1Mickleborough TD. Omega-3 polyunsaturated fatty acids in physical performance optimization. Int J Sport Nutr Exerc Metab. 2013 Feb; 23 (1): 83-96. PubMed PMID: 23400626. Athletes who are more robust overall can exercise more and are less ill.
Higher muscle protein synthesis - A high omega-3 intake can do that Muscle building promote. The muscle protein synthesis - triggered by insulin and protein (= after a meal) - is increased after 8 weeks 3.36 g EPA + DHA in young and healthy people.2Smith GI, Atherton P, Reeds DN, Mohammed BS, Rankin D, Rennie MJ, Mittendorfer B. Omega-3 polyunsaturated fatty acids augment the muscle protein anabolic response to hyperinsulinaemia-hyperaminoacidaemia in healthy young and middle-aged men and women. Clin Sci (London). 2011 Sep; 121 (6): 267-78. doi: 10.1042 / CS20100597. PubMed PMID: 21501117; PubMed Central PMCID: PMC3499967. Also at elderly (≥65 years) you can see this effect, which is why omega-3 fatty acids could work against muscle wasting in old age. 3Smith GI, Atherton P, Reeds DN, Mohammed BS, Rankin D, Rennie MJ, Mittendorfer B. Dietary omega-3 fatty acid supplementation increases the rate of muscle protein synthesis in older adults: a randomized controlled trial. At J Clin Nutr. 2011 Feb; 93 (2): 402-12. doi: 10.3945 / ajcn.110.005611. Epub 2010 Dec 15. PubMed PMID: 21159787; PubMed Central PMCID: PMC3021432.
Less sore muscles - The inflammatory processes triggered by training can be counteracted by EPA + DHA. For example, will aching Reduced with a dose of 1.8 - 3 g of omega-3 fatty acids.4Kim J, Lee J. A review of nutritional intervention on delayed onset muscle soreness. Part I. J Exerc Rehabil. 2014 Dec 31; 10 (6): 349-56. doi: 10.12965 / jer.140179. eCollection 2014 Dec. Review. PubMed PMID: 25610818; PubMed Central PMCID: PMC4294436.
2.2 Lose weight
More fat loss in a diet. In a diet with a large calorie deficit, comparable to our High Speed ​​Diet (HSD), supplementation with 2.8 EPA + DHA leads to 1 kg more fat loss (over a period of 3 weeks) and higher fat burning in overweight people.5Kunesová M, Braunerová R, Hlavatý P, Tvrzická E, Stanková B, Skrha J, Hilgertová J, Hill M, Kopecký J, Wagenknecht M, Hainer V, Matoulek M, Parízková J, Zák A, Svacina S. The influence of n- 3 polyunsaturated fatty acids and very low calorie diet during a short-term weight reducing regimen on weight loss and serum fatty acid composition in severely obese women. Physiol Res. 2006; 55 (1): 63-72. Epub 2005 Apr 26. PubMed PMID: 15857162. Therefore, omega-3 supplementation is an integral part of the HSD.
2.3 Cardiovascular diseases (heart attack, stroke, etc.)
Especially when it comes to the health benefits related to cardiovascular diseases, there have been more and more in recent years sobering results for that Supplementation with omega-3.6Aung T, Halsey J, Kromhout D, Gerstein HC, Marchioli R, Tavazzi L, Geleijnse JM, Rauch B, Ness A, Galan P, Chew EY, Bosch J, Collins R, Lewington S, Armitage J, Clarke R; Omega-3 Treatment Trialists' Collaboration. Associations of Omega-3 Fatty Acid Supplement Use With Cardiovascular Disease Risks: Meta-analysis of 10 Trials Involving 77,917 Individuals. JAMA Cardiol. 2018 Mar 1; 3 (3): 225-234. doi: 10.1001 / jamacardio.2017.5205. PubMed PMID: 29387889; PubMed Central PMCID: PMC5885893.7Siscovick DS, Barringer TA, Fretts AM, Wu JH, Lichtenstein AH, Costello RB, Kris-Etherton PM, Jacobson TA, Engler MB, Alger HM, Appel LJ, Mozaffarian D; American Heart Association Nutrition Committee of the Council on Lifestyle and Cardiometabolic Health; Council on Epidemiology and Prevention; Council on Cardiovascular Disease in the Young; Council on Cardiovascular and Stroke Nursing; and Council on Clinical Cardiology. Omega-3 Polyunsaturated Fatty Acid (Fish Oil) Supplementation and the Prevention of Clinical Cardiovascular Disease: A Science Advisory From the American Heart Association. Circulation. 2017 Apr 11; 135 (15): e867-e884. doi: 10.1161 / CIR.0000000000000482. Epub 2017 Mar 13th Review. PubMed PMID: 28289069. The AHA (American Heart Association) does not recommend omega-3 supplements to the general public.
However, they recommend weekly Omega-3 rich sea fish to eat.8http://www.heart.org/HEARTORG/HealthyLiving/HealthyEating/Nutrition/The-American-Heart-Associations-Diet-and-Lifestyle-Recommendations_UCM_305855_Article.jsp#.WxjtSe6FOM9 Fish consumption (up to 4 times a week) appears in observational studies associated with beneficial effects on heart health.9Leung Yinko SS, Stark KD, Thanassoulis G, Pilote L. Fish consumption and acute coronary syndrome: a meta-analysis. Am J Med. 2014 Sep; 127 (9): 848-57.e2. doi: 10.1016 / j.amjmed.2014.04.016. Epub 2014 May 4. PubMed PMID: 24802020. Although there are also studies that do not find this connection.10Rhee JJ, Kim E, Buring JE, Kurth T. Fish Consumption, Omega-3 Fatty Acids, and Risk of Cardiovascular Disease. Am J Prev Med. 2017 Jan; 52 (1): 10-19. doi: 10.1016 / j.amepre.2016.07.020. Epub 2016 Sep 16. PubMed PMID: 27646568; PubMed Central PMCID: PMC5167636.
It is surprising that the effects of omega-3 supplementation on cardiovascular disease seem contradictory. Especially since omega-3 supplementation lowers blood pressure in people with high blood pressure 11Campbell F, Dickinson HO, Critchley JA, Ford GA, Bradburn M. A systematic review of fish-oil supplements for the prevention and treatment of hypertension. Eur J Prev Cardiol. 2013 Feb; 20 (1): 107-20. doi: 10.1177 / 2047487312437056. Epub 2012 Jan 30. PubMed PMID: 22345681.
12Simão AN, Lozovoy MA, Bahls LD, Morimoto HK, Simão TN, Matsuo T, Dichi I. Blood pressure decrease with ingestion of a soya product (kinako) or fish oil in women with the metabolic syndrome: role of adiponectin and nitric oxide. Br J Nutr. 2012 Oct 28; 108 (8): 1435-42. doi: 10.1017 / S0007114511006921. Epub 2012 Feb 8. PubMed PMID: 22313793., has anti-inflammatory effects 13Calder PC. Omega-3 polyunsaturated fatty acids and inflammatory processes: nutrition or pharmacology? Br J Clin Pharmacol. 2013 Mar; 75 (3): 645-62. doi: 10.1111 / j.1365-2125.2012.04374.x. PubMed PMID: 22765297; PubMed Central PMCID: PMC3575932. and lowers blood fat levels like triglycerides. 14Eslick GD, Howe PR, Smith C, Priest R, Bensoussan A. Benefits of fish oil supplementation in hyperlipidemia: a systematic review and meta-analysis. Int J Cardiol. 2009 Jul 24; 136 (1): 4-16. doi: 10.1016 / j.ijcard.2008.03.092. Epub 2008 Sep 6th Review. PubMed PMID: 18774613.15Innes JK, Calder PC. The Differential Effects of Eicosapentaenoic Acid and Docosahexaenoic Acid on Cardiometabolic Risk Factors: A Systematic Review. Int J Mol Sci. 2018 Feb 9; 19 (2). pii: E532. doi: 10.3390 / ijms19020532. Review. PubMed PMID: 29425187; PubMed Central PMCID: PMC5855754. All risk factors for cardiovascular disease.
Are there other vital nutrients in real foods like fish? Or were the dosages in the supplement studies too low or the supplement quality too low?
These differences can possibly be explained by the very variable bioavailability and problematic study designs.16Von Schacky C. Omega-3 index and cardiovascular health. Nutrients. 2014 Feb 21; 6 (2): 799-814. doi: 10.3390 / nu6020799. Review. PubMed PMID: 24566438; PubMed Central PMCID: PMC3942733. New and better studies are in progress and should bring clarity soon.
A remedy for these problems could be the Omega-3 index create. The omega-3 index describes the percentage of omega-3 fatty acids EPA and DHA in the red blood cells. The The greatest risk reduction for cardiovascular diseases is achieved with an omega-3 index of 8-11% supposed.17Harris WS. The omega-3 index as a risk factor for coronary heart disease. At J Clin Nutr. 2008 Jun; 87 (6): 1997S-2002S. PubMed PMID: 18541601. In the western world, however, the omega-3 index is usually only between 4 and 6%. The greatest risk of sudden cardiac death is associated with an omega-3 index of ≤ 4%.
2.4 Depression, mood, anxiety, stress
It is not entirely clear whether omega-3 really helps with depression. Some studies show positive effects, others not.
There may be anti-depressive effects, but only with more severe depression. 18Martins JG. EPA but not DHA appears to be responsible for the efficacy of omega-3 long chain polyunsaturated fatty acid supplementation in depression: evidence from a meta-analysis of randomized controlled trials. J Am Coll Nutr. 2009 Oct; 28 (5): 525-42. Review. PubMed PMID: 20439549.
Most of all, EPA is effective. It may only help those people with depression who are also experiencing increased oxidative stress. 19Bigornia SJ, Harris WS, Falcón LM, Ordovás JM, Lai CQ, Tucker KL. The Omega-3 Index Is Inversely Associated with Depressive Symptoms among Individuals with Elevated Oxidative Stress Biomarkers. J Nutr. 2016 Apr; 146 (4): 758-66. doi: 10.3945 / jn.115.222562. Epub 2016 Mar 2. PubMed PMID: 26936135; PubMed Central PMCID: PMC4807643.
As an affected person, it does not seem to be a mistake to consume more omega-3 fatty acids.
There are also indications of psychological effects in healthy people. Possibly more omega-3 leads to a slight improvement in mood, less anxiety and psychological stress.20Fontani G, Corradeschi F, Felici A, Alfatti F, Migliorini S, Lodi L. Cognitive and physiological effects of Omega-3 polyunsaturated fatty acid supplementation in healthy subjects. Eur J Clin Invest. 2005 Nov; 35 (11): 691-9. PubMed PMID: 16269019.21Kiecolt-Glaser JK, Belury MA, Andridge R, Malarkey WB, Glaser R. Omega-3 supplementation lowers inflammation and anxiety in medical students: a randomized controlled trial. Brain Behav Immune. 2011 Nov; 25 (8): 1725-34. doi: 10.1016 / j.bbi.2011.07.229. Epub 2011 Jul 19. PubMed PMID: 21784145; PubMed Central PMCID: PMC3191260.22Lucas M, Asselin G, Mérette C, Poulin MJ, Dodin S. Ethyl-eicosapentaenoic acid for the treatment of psychological distress and depressive symptoms in middle-aged women: a double-blind, placebo-controlled, randomized clinical trial. At J Clin Nutr. 2009 Feb; 89 (2): 641-51. doi: 10.3945 / ajcn.2008.26749. Epub 2008 Dec 30. PubMed PMID: 19116322.
2.5 Other effects of omega-3 fatty acids:
During pregnancy: better brain functions, coordination and eye development of the fetus. Counteracts premature birth. 23Swanson D, Block R, Mousa SA. Omega-3 fatty acids EPA and DHA: health benefits throughout life. Adv Nutr. 2012 Jan; 3 (1): 1-7. doi: 10.3945 / an.111.000893. Epub 2012 Jan 5th Review. PubMed PMID: 22332096; PubMed Central PMCID: PMC3262608.
Reduces symptoms of ADHD with children. 24Bloch MH, Qawasmi A. Omega-3 fatty acid supplementation for the treatment of children with attention-deficit / hyperactivity disorder symptomatology: systematic review and meta-analysis. J Am Acad Child Adolesc Psychiatry. 2011 Oct; 50 (10): 991-1000. doi: 10.1016 / j.jaac.2011.06.008. Epub 2011 Aug 12th Review. PubMed PMID: 21961774; PubMed Central PMCID: PMC3625948.
3. The Omega 3: Omega 6 ratio
In our western diet we have a lot of omega 6 sources of fat (e.g. fatty meat), but too few omega 3 sources (fatty fish).
Less than the respective absolute fat intake, the relative ratio of omega 3 to omega 6 is the problem here. A ratio of 1: 3 or the like is probably ideal, while our normal western diet is more likely to have a ratio of 1:16.25Simopoulos AP. The importance of the ratio of Omega-6 / Omega-3 essential fatty acids. Biomed Pharmacother. 2002 Oct; 56 (8): 365-79. Review. PubMed PMID: 12442909.
4. How Much Omega 3 Should You Consume?
We generally recommend one Omega-3 intake of 600 mg to 3 g. The right dose depends on your goal and individual circumstances. You can get this amount from fish and seafood as well as from supplements.
Good strategy for all of the potential benefits of omega-3 fatty acids:
Optimal: Raise the omega-3 index to 8-11%. Most have an O3Ix of 4-6%. How much omega-3 is necessary for this? Calculate it with the Omega-3 Index Calculator.
Alternative general practical tip: Supplement daily 1-2 g EPA + DHA & eat omega-3 rich fish 1-2 times a week. Depending on your body weight, orientate yourself more towards the lower or upper limit.
Special areas of application:
In an extreme diet: 1.8-3 g EPA + DHA. In a hard, intelligent diet like the PSMF or High Speed ​​Diet, up to 3 g of fish oil per day is useful. You counter a variety of negative side effects of a diet (including depression).
Against muscle pain / sore muscles: 1.8-3 g EPA + DHA.
Reduction of inflammation: 1.8-3 g EPA + DHA. More than 2.7 g EPA + DHA presumably necessary for an anti-inflammatory effect.26Cleland LG, James MJ, Proudman SM. Fish oil: what the prescriber needs to know. Arthritis Res Ther. 2006; 8 (1): 202. Erratum in: Arthritis Res Ther. 2006; 8 (4): 402. PubMed PMID: 16542466; PubMed Central PMCID: PMC1526555.
Lowering of triglycerides: 3-4 g EPA + DHA. Can reduce triglycerides by around 30%.27Harris WS, Miller M, Tighe AP, Davidson MH, Schaefer EJ. Omega-3 fatty acids and coronary heart disease risk: clinical and mechanistic perspectives, atherosclerosis. 2008 Mar; 197 (1): 12-24. Epub 2007 Dec 26th Review. PubMed PMID: 18160071.28Shearer GC, Savinova OV, Harris WS. Fish oil - how does it reduce plasma triglycerides? Biochim Biophys Acta. 2012 May; 1821 (5): 843-51. doi: 10.1016 / j.bbalip.2011.10.011. Epub 2011 Oct 25. PubMed PMID: 22041134; PubMed Central PMCID: PMC3563284.
Rheumatoid arthritis: 2.6 g EPA + DHA.29Geusens P, Wouters C, Nijs J, Jiang Y, Dequeker J. Long-term effect of omega-3 fatty acid supplementation in active rheumatoid arthritis. A 12-month, double-blind, controlled study. Arthritis rheumatism. 1994 Jun; 37 (6): 824-9. PubMed PMID: 8003055.30MacLean CH, Mojica WA, Morton SC, Pencharz J, Hasenfeld Garland R, Tu W, Newberry SJ, Jungvig LK, Grossman J, Khanna P, Rhodes S, Shekelle P. Effects of omega-3 fatty acids on lipids and glycemic control in type II diabetes and the metabolic syndrome and on inflammatory bowel disease, rheumatoid arthritis, renal disease, systemic lupus erythematosus, and osteoporosis. Evid Rep Technol Assess (Summ). 2004 Mar; (89): 1-4. PubMed PMID: 15133890; PubMed Central PMCID: PMC4780987.
Ingestion time: ideally after a fatty meal. Daily intake.
Note: InBy default, 1 g of fish oil supplements are 180 mg EPA (18%) and 120 mg (12%) DHA contain. The total amount of pure omega-3 fatty acids in 1 g of fish oil is 300 mg. The decisive factor is the amount of EPA + DHA. Look at the label and add up the information.
5. Which Omega-3 Supplements to Buy?
FE recommendation to buy omega-3
High dose omega-3:
Omega-3 from Germany (1-3 days delivery time, DHL):
Omega-3 from England (price / performance, 2-5 days delivery time, DPD):
Omega-3 from algae (vegan)
Omega-3 liquid
If you don't want to take a lot of capsules, you can use liquid fish oil (for example this one). Such fish oils contain approx. (5 mL) 1 g of omega-3 (650 mg EPA and 450 mg DHA) per teaspoon.
6. When should you not use fish oil?
If you are sick (e.g. with a cold) and your immune system is fighting against intruders, you should not use fish oil. Omega 3 has a slightly immunosuppressive effect, i.e. it shuts down your immune system slightly. If in doubt, talk to your treating doctor!
Attention: If you take blood-thinning medication, you should not supplement with omega-3s.
7. Linseed oil / linseed / chia seeds also possible instead of fish oil?
Unfortunately, fish oil cannot be replaced by flax seeds, chia seeds and the like. In these foods is especially alpha-linolenic acid (ALA) contain.
The conversion to EPA and DHA is low and inefficient.
Read more about this here: Why omega-3 from linseed oil or walnuts (ALA) is not a substitute for fish oil.
You might be interested in that too