Can you tell me something about Portugal?
Fado - the sounds of the soul
Fado is by far the most famous Portuguese music. Fado means "fate". Fado is neither folklore nor folk music, but an expression of the state of mind of the Portuguese: the saudade.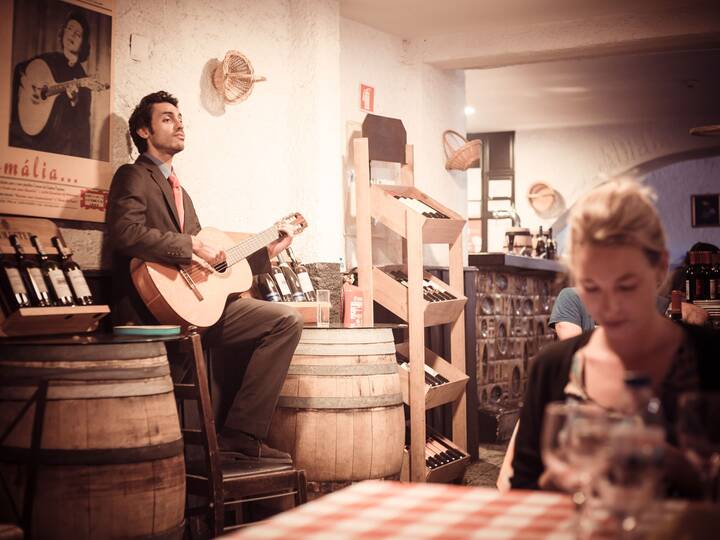 Fado music in a restaurant in Lisbon (ale de sun / Shutterstock.com)
Fado - music, history, artist
Black scarves, Portuguese guitars and a soulful expression on your face, this is where Fado, Portugal's number one musical style, is presented. The music of Fado is inextricably linked with Portuguese culture and is also gaining more and more supporters in Germany.
The Madredeus group is one of the internationally best-known performers and fills entire concert halls. Especially Lisbon and Coimbra are considered strongholds of the melodramatic music style.
Fado has been a UNESCO World Heritage Site since 2011. The term fado is derived from the Latin "fatum", which means "fate".
World Pain
Fado is part of the Portuguese folk soul. The environment shapes people's lives and has an impact on art and music.
For a long time Portugal was a poor country, a country of emigrants, Portugal is closely connected to the sea and a seafaring nation: Time and again we had to say goodbye.
So it is not surprising that the Fado songs are about homesickness, parting, unhappy love, mourning the good old days and longing for a better future. The predominant tone of melancholy fado is minor, wistful wailing.
Well-known Portuguese Fado artists
Amália Rodrigues
The undisputed queen of Fado is the »Fadista« Amália Rodrigues (1920–1999), whose former home you can visit in Lisbon. The charismatic singer made Fado internationally known.
Music by Amália Rodrigues: Amazon Music | Spotify
Carlos do Carmo
If you are interested in Fado, you will quickly end up with Carlos do Carmo. The degree of his fame in Portugal can be measured by the fact that at his death at the beginning of January 2021 a one-day state mourning for the popular Fado singer was proclaimed. Do Carmo was known as the "Sinatra of Portugal" or the "voice of Lisbon".
His music doesn't just consist of classic fado. He expanded it with influences from other musical styles, such as the Brazilian bossa nova or components from songs by Frank Sinatra. He also liked to perform with entire orchestras, although a Fado performance usually only has one singer and two guitarists.
In 2014 Carlos do Carmo was the first Portuguese singer ever to receive the Latin Grammy Award for his oeuvre.
Music by Carlos do Carmo: Amazon Music | Spotify
More famous fado artists
Alfredo Marceneiro (1891-1982) was also a fado singer from Lisbon. In 1948 he was proclaimed "King of Fado" at an event. He is also considered a great patron of Amália Rodrigues. More recently, artists such as Mariza, Mísia and Dulce Pontes have been reviving Fado.
They ensure that fado does not become frozen in tradition or degenerate into a cheap tourist spectacle. This is thanks to texts related to the present and an instrumentalization adapted to the zeitgeist that takes tradition into account.
The sound of fado
In Fado, the focus of the lecture is the singing of a singer, accompanied by a guitar and often a bass guitar as well. Traditionally, the instruments are played by men.
Similar to flamenco in Andalusia, the music of fado is firmly anchored in the population and is actively lived. It can happen that in authentic fado halls the guests improvise and sing verses and loudly express their Weltschmerz accompanied by applause from the audience.
History of Fado
First of all, Fado can be heard in the slums of Lisbon in disreputable pubs in the districts of Mouraria, Alfama and in Bairro Alto.
It probably goes back to the songs of Portuguese sailors, influenced by Brazilian influences. Fado only became socially acceptable in the 19th century and found its way into society's salons.
A specialty is the Fado de Coimbra: Here the Fado is part of the student tradition and tells of student life and unfulfilled love. In Coimbra, fado is also traditionally performed by men in the streets of the city.
Fado today
Today you meet Fado in many forms. The artist Maria de Fátima succeeds in merging fado with jazz and the pop singers Nelly Furtado, Sina Nossa and Trio Fado also use Fado elements in their songs. DJs and bands like Deolinda or A Naifa round off the spectrum of fado. The Spanish director Carlos Saura commemorates Fado in the film of the same name.
Today you can experience Fado in Portugal in two ways: On the one hand, as Fado Vadio in a tavern, bar or a Fado house, especially in Lisbon and Porto. Or as a concert with a fixed program in the concert hall. Only world stars like Carmino or Mariza appear in the really big halls.
Some of the best fado bars in Lisbon include A Severa, A Baîuca, Parreirinha de Alfama and Café Luso from 1927, where Amália Rodrigues already sang. In Porto, the Taberna Real do Fado is a good choice, the Casa da Mariquinhas or the Café Guarany.
Tickets to fado shows in Lisbon and Porto
Museu do Fado
The Fado Museum in Alfama in Lisbon offers a good overview of the history of Fado. It was instrumental in the nomination of Fado as a World Heritage Site and was initiated by Carlos do Carmo and António Chainho.
The Fado Museum houses a documentation center, an auditorium and course rooms where, for example, courses in Portuguese guitar take place. The collection show instruments, sheet music, posters, clothes, records and newspapers. After enjoying the art, you can enjoy delicious Portuguese dishes and drinks in the associated restaurant.
Experiencing Fado in a typical restaurant in Portugal is an experience and an enrichment for any Portugal vacation. Especially if you are lucky enough to experience Fado live in a bar that is also frequented by many locals. There you dive deep into the saudade and experience what it is like when fado takes hold of your heart.
Book recommendation