Can Germany annex Austria
Austria commemorates the annexation by Nazi Germany
On Wednesday (March 12th, 2008) Austria commemorated the so-called Anschluss to Nazi Germany 70 years ago. The parliament in Vienna met for a special session, politicians recalled in particular that the Austrians shared responsibility for the crimes of the National Socialists. Many Austrians welcomed the Anschluss at the time, said Federal Chancellor Alfred Gusenbauer (SPÖ). Austria must "fill this with shame and sadness".
The chairman of the conservative People's Party, Wilhelm Molterer, also complained that too many people supported the Nazis at the time. The government in Vienna announced that it would establish a Simon Wiesenthal Center for research into the Holocaust. Vienna also wants to chair the Holocaust Remembrance Task Force, which was founded in 1998.
Habsburg: Austria is a victim
On March 12, 1938, the German Wehrmacht marched into Austria. With the so-called Anschluss, the country was incorporated into the German Empire. The Nazis now also persecuted Jews and opponents of the regime in Austria. However, many Austrians welcomed the new rulers. When Hitler came to Vienna, he was enthusiastically received by thousands.
After the war, many Austrians no longer wanted to hear about it. Instead, the victim thesis emerged that Austria was the "first victim of the Nazis". Otto Habsburg, the son of the last Austrian emperor, recently confirmed this point of view. No state has the right to feel like a victim more than Austria, says the 95-year-old at a commemoration of the connection by the conservative people's party ÖVP.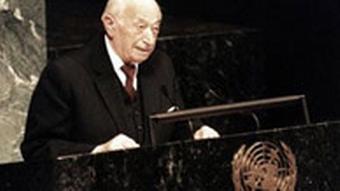 In memory of Simon Wiesenthal, a center for research into the Holocaus is set up in Vienna
Victim myth "fiction of history"
Politicians in Vienna reacted indignantly. Defense Minister Norbert Darabos (SPÖ) accused Habsburg of mocking the victims of National Socialism. The victim myth is a "fiction of history," said Barbara Prammer (SPÖ), President of the National Council. Austria must face its history. According to Federal President Heinz Fischer, the country was the victim of military aggression under international law. In fact, however, there were "a considerable number of fanatical National Socialists" and sympathizers who made the Nazis' takeover of power possible in the first place. (det)