What has the big cheeseburger failed
How Burger King and Co. are driving the deforestation of the rainforests
How environmentally friendly is my hamburger? The question is about how meat production affects the climate on the one hand, and how much land has to be used as cow pastures that would otherwise be available for the production of meat-free food on the other. And then the question remains where the feed that the cattle eat comes from.
According to reports from the environmental organization Mighty Earth, rainforests are still having to give way for the cultivation of soy, which is mainly used as animal feed. According to Mighty Earth, Bunge and Cargill, two of the world's largest soy producers, are responsible for the loss of nearly 700,000 hectares in Brazil's cerrado forests within four years. They also supply Burger King with soy.
The owner of Burger King International, Restaurant Brands International, announced in its first sustainability report that it wanted to stop the deforestation by 2030 - according to environmental activists, just a marketing strategy to create a green image.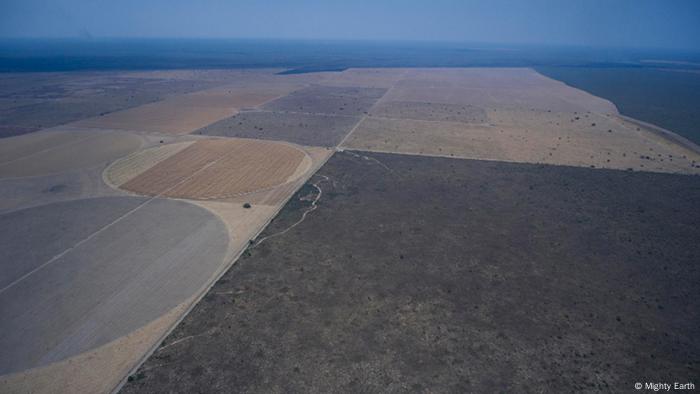 30 percent of the world's soy comes from Brazil
Everything for a steak
Beef production is one of the biggest drivers of rainforest deforestation, alongside the extraction of palm oil and timber. Even those who eat meat from European cows can contribute to deforestation in other parts of the world - namely when trees are felled there to make room for soybean fields.
The WWF estimates that soybean fields cover over one million square kilometers worldwide, which corresponds to the common area of ​​France, Belgium, Germany and the Netherlands. 75 percent of the harvest is used as animal feed.
However, environmental damage is not the only by-product of the soy industry. Human rights violations are not uncommon in areas where a lot of forest is cut down. According to the non-governmental organization Global Witness, Brazil was the deadliest country for environmental activists in 2015: most of them were murdered while fighting against overexploitation of the forests.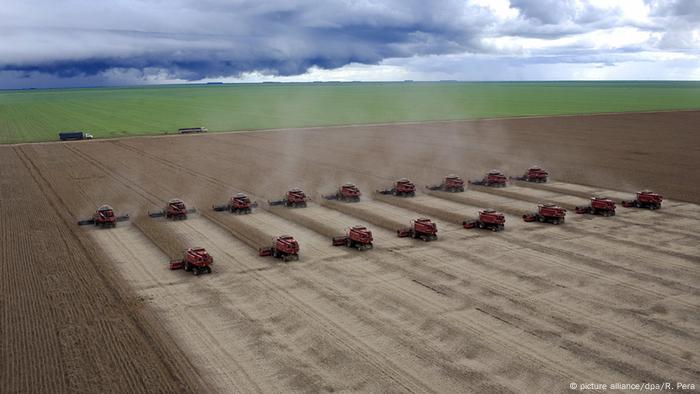 Harvest time in Brazil's soybean fields
Burger King: zero points
Burger King's goal of stopping deforestation by 2030 is devoid of any ambition and is just plain ridiculous, say environmentalists. "It's absurd and unacceptable," said Lars Lovold, managing director of the Foundation for Rainforest Norway, in an interview with DW.
Activists fear that setting a deadline this far in the future implies not being serious. Matthias Rittgerott, an activist at Rainforest Rescue, says it is more about increasing sales than protecting the forests.
Rittgerott suspects that Burger King might want to catch up with its biggest competitor, McDonald's, which is trying to improve its green image. "Burger King is feeling pressure from other companies and wants to get off the blacklist."
A study by the Union of Concernced Scientists, a US scientific association that works among other things for environmental protection, gave Burger King zero out of 100 points in its efforts to combat deforestation in 2016. According to the study, the company is failing in both its corporate policies and its actual efforts to stop deforestation along the supply chain.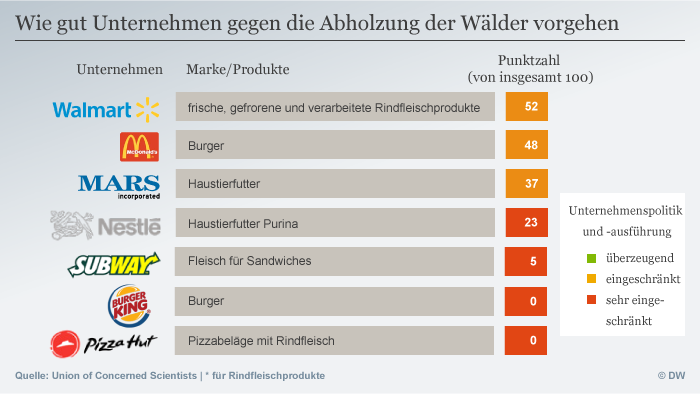 Of the other 13 companies that the study evaluated, none finished with "good". McDonald's came in second with 48 out of 100 points.
When DW asked to comment on their resolutions, Burger King did not respond.
Soy producer Germany
According to Mighty Earth, Germany is one of the largest meat and milk producers in Europe and one of the largest importers of South American soy. Cargill and Bunge play an important role in several German supply chains, research by the organization has shown.
Burger King boasts that 100 percent of the beef in its German restaurants comes from Germany or Austria. However, the company does not say where the feed for the animals comes from.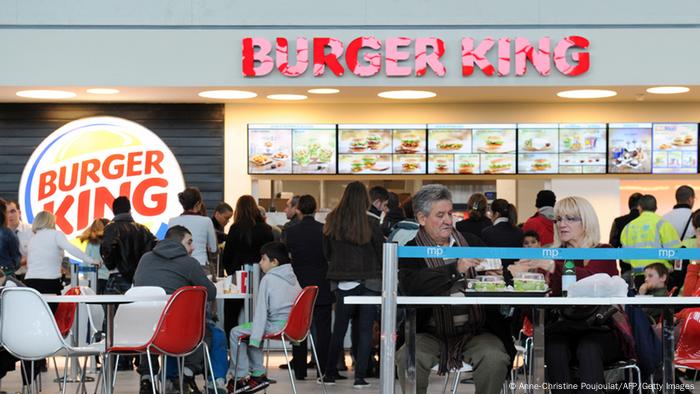 Ultimately, consumers always have the final say
In fact, according to Greenpeace, very few German producers and traders rule out that their meat is linked to the loss of rainforests. "The fact that deforestation can often only be traced back indirectly to the business of the company complicates the matter," says Eva Müller, managing director for forestry policy at the Food and Agriculture Organization of the United Nations. That makes it difficult to hold companies accountable. Large soy producers like Cargill and Bunge are only part of a long supply chain.
Change is possible
There are ways to fight deforestation and still enjoy a juicy hamburger. In 2007, the leading soy traders in Brazil - including Bunge and Cargill - passed a soy moratorium. It boycotts soy that grows in fields created by new forest destruction in the Amazon. Bunge and Cargill have so far refused to extend the moratorium to areas outside the Amazon basin - areas where most of the deforestation is taking place today.
Over half of the natural vegetation in the Brazilian savannah - the cerrados - has already been cleared. In the Amazon it is 25 percent.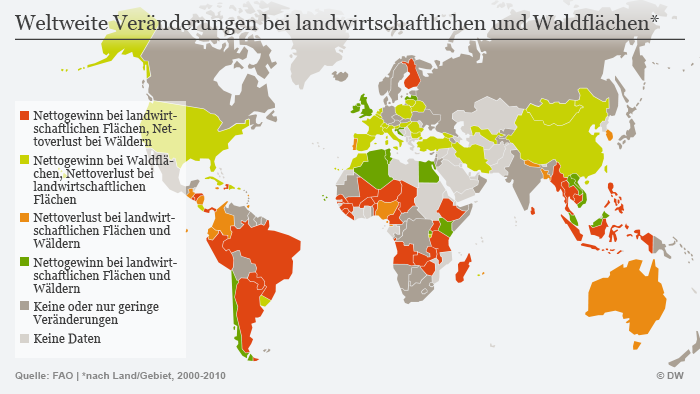 But there is also enough land - without having to cut down trees beforehand. South America has 200 million hectares of ruined forest and grassland - 15 times the size of England. According to Mighty Earth, this could be prepared for agriculture. "A quick change is definitely possible," says Lovold, "but there is a lack of willingness to do so."
Ultimately, it is consumers who can bring about change. The soy moratorium was also largely the result of consumer demands, says Lucia von Reusner, campaign manager for Mighty Earth. Consumers have to hit companies where it hurts: with the sales figures.
Fight against illegal logging

Green lung

The tropical rainforest in the Amazon is almost twice the size of India. A good three quarters of the area is in Brazil. The earth's green lungs are threatened by illegal logging and the exploitation of natural resources.

Fight against illegal logging

Caught in action

Together with the military police, agents from the Brazilian Institute for Environment and Renewable Natural Resources (IBAMA) hunt down illegal loggers. You are trying to catch this in the act. Here an IBAMA agent is targeting a timber truck.

Fight against illegal logging

Short process

IBAMA is not squeamish about illegal loggers. Anyone caught, like here near the town of Novo Progresso in the state of Para, will feel the hard hand of the authority. The wood is burned on site along with the trucks.

Fight against illegal logging

Dangerous work

The work carries a high level of risk. Some loggers are armed. In June, a police officer was shot dead while on duty.

Fight against illegal logging

Rare success

In this case, the IBAMA employees were successful. But success is rare. The economic crisis has also hit the environmental authorities. Their funds have been cut by 30 percent in the past few years.

Fight against illegal logging

Bad equipment

This has consequences: "The loggers are better equipped than we are," says Uiratan Barroso, representative of the agency in the state of Para. "As long as we don't have money for unmarked vehicles and sensible radios, we can't work properly."

Fight against illegal logging

Balance sheet deteriorates

Between 2004 and 2012, the deforestation rate in the Amazon was reduced by 80 percent through the use of IBAMA. But in the last four years it has increased by 35 percent. Last year, a forest area four times the size of Los Angeles was cleared.

Fight against illegal logging

Help from Germany and Norway

The Brazilian government admits that the IBAMA is too poorly funded to carry out its tasks. The situation is now to be improved with 56 million real, the equivalent of a good 15 million euros, from the Fundo Amazonia. Most of the money comes from Germany and Norway.

Author: Christoph Ricking