Panera's cream cheese and potato soup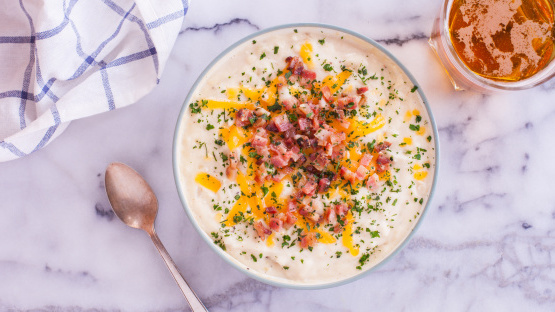 4-6 servingsPTM60 min
This is my favorite potato soup recipe. It is an imitator of what they are served with at the St Louis Bread Company (Panera). The recipe originally called for your potatoes to be shredded, but I could never get them to cook like that. I know they should cook faster but I could never get it to work.
preparation
Mix the broth, potatoes and spices.

Cook over medium heat until the potatoes are tender.

Destroy a few potatoes to release their starch for thickening.

Reduce to low heat.

Heat, stirring frequently, until the cheese melts.
Butter, flour, garlic powder, nutmeg, pepper sauce, thyme, broth, milk, broccoli florets, whipped cream, Worcestershire sauce, pepper sauce, cheese, cheese, cheese,

Butter, flour, garlic powder, nutmeg, pepper sauce, thyme, broth, milk, broccoli florets, whipped cream, Worcestershire sauce, pepper sauce, cheese, cheese, cheese,

Butter, flour, garlic powder, nutmeg, pepper sauce, thyme, broth, milk, broccoli florets, whipped cream, Worcestershire sauce, pepper sauce, cheese, cheese, cheese,

Butter, flour, garlic powder, nutmeg, pepper sauce, thyme, broth, milk, broccoli florets, whipped cream, Worcestershire sauce, pepper sauce, cheese, cheese, cheese,