What is a cold email campaign
11 tips for your email marketing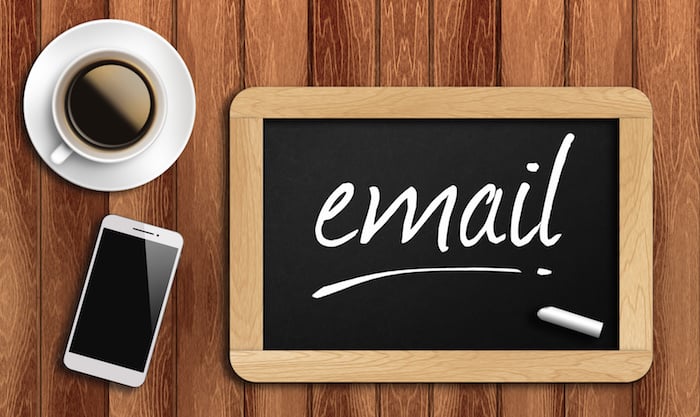 Are you the type of person willing to make 50 and more calls a day to add qualified candidates to your sales funnel? Cold calling on the phone will always have a place in the business world, but it's not the only interesting strategy.

With a growing number of buyers interested in a digital experience, it's time to focus on cold calling using email. Combining this with calling is the best of both strategies.

If email marketing is the most effective marketing strategy, doesn't it make sense to include it in your sales portfolio?

This is where cold email calling comes into play.
As with cold calling, you contact candidates without prior notice. The only difference is that email is used as the contact method instead of a phone call.

While you may be concerned about the low open and response rates, the right type of email can increase your numbers and help bring you closer to your goal of increasing sales.

Here are 11 cold calling email tips, each with an example that anyone can use.

The "Welcome email "
As the name suggests, you introduce yourself to the recipient in this email.

You may be tempted to sell your product or service. While it would be easy to try an easy sale, that is not your goal. Resist temptation.

Let's look at an example:
Hello John,

I hope that this email reaches you well. I know you are busy so I won't be taking up much of your time. I would like to introduce myself to you with this email as I like to connect with people who work in the same industry.

My company, XYZ, specializes in making widgets. I am a big fan of your company and I follow all the news.

If you can, don't hesitate to contact me by email. Of course you can also reach me on Twitter, Facebook or LinkedIn.


Thank you for taking the time to read this email. I hope our paths will cross in the future!

Best wishes


Jane Doe

Company XYZ
This is a relationship building email. You don't go straight into attack mode. The goal is just to introduce yourself, let the person know who you are, and take the first step in that direction.

If everything goes according to plan and, for example, you receive a reply email or a social media connection, you can maintain the relationship and proceed as planned.

The "aggressive sales email"
You may not be the type to turn people on, be it on the phone or in person. But using email can give you the courage to do so.

An aggressive sale is all about one thing: getting the person to make a purchase in the near future. You're not sending this email to build a relationship. You're doing it because you want to close the sale sooner rather than later.

An aggressive sales email can come in two ways:
You catch the right person at the right time and make them curious enough to set up a meeting or ask for information.

Your "Straight to the point "style puts her off and you probably never hear from her again.
You will never have a 100% success rate with an aggressive sales email, but there are a few things you can say to improve your chances.

Try the following:
Hello John,

Are you looking for a way to do more business with your website? With a professionally created online presence, you can take your online sales to the next level.

While your website has a lot going for it - like a mobile-friendly design, for example - there are steps you can take to increase its looks and conversion potential.


My goal is simple: redesign your website to help you generate more sales.

If you understand the importance of a well-designed website and you want to be more successful online in the future, take the time to reply to this email. My past successes, along with hundreds of positive reviews, speak for themselves.


Is it time to redesign your website? The answer could be "yes",

Best wishes


Jane Doe

Company XYZ
Too Aggressive? Too direct? Some say yes, some say no. You know your audience better than anyone. It could be the type of email your audience is responding to.

Again, a hard sell email won't make anyone feel warm. It will put some people off.

Even so, it can generate positive responses and quick sales if used in the right way and consistently.

The "Zlow-key sales email "
Not everyone likes the aggressive approach. Some people feel uncomfortable with it, almost like a sleazy used goods dealer.

If the aggressive tactic goes too far for you, but you still want to push your business forward, then it's time to try the more cautious method.

Here's what I mean:
Hello John,

As Marketing Manager at XYZ, it is my job to find people in the industry who can provide high quality expertise and feedback on our services.


It is not always easy to find experienced professionals who are knowledgeable, but I hope that you can continue to help us.


Our services are X, Y and Z, which you probably know well due to your current position.


Do you have a need for one or more of these services? Is there anything in particular that would increase the chance of working with our company?


I know you're busy, that's why I stop here. If you have a little time, I would love to hear your ideas. Thank you for your time.


Best wishes


Jane Doe

Company XYZ
When you attend a conference or speak to someone on the phone, do you offer your product or service directly?

Probably not. Even if you thought you could land a sale, it would leave you in a bad light.

Instead, you start by introducing yourself and then tell them what you and your company are doing.
Email is different from a face-to-face conversation or a phone call, but it often makes sense to avoid aggressive sales tactics in order to offer something more informative.
If you find a low-key sales email that works, you can use that to start the conversation. That ultimately puts you in a situation where you feel more comfortable asking about a sale.
The "Social Media Email "
When you combine the best of social media and email, the results can be impressive.

No matter what your preferred social media platform is, they all offer great opportunities for your cold email calling.

Here is an excerpt from a Business 2 Community blog article that explores the reach of social media in the business world.

Twitter is the place to connect with businesses. While only 20 of the Fortune 500 companies actually interact with their visitors on Facebook, 83% of them have a Twitter presence - as does 76% of the NASDAQ Top 100, 100% of the Dow Jones companies and 92% of the S&P 500. To top Reaching out to executives, however, is LinkedIn's best place. Although only 32% of Fortune 500 CEOs have a presence on a large social media network, most of them (25%) are on LinkedIn. And 59% of executives prefer video over text.

You can communicate directly with potential customers on social media. It is also possible to include this in a cold call email. It works like this:

Hello John,

as someone who enjoys social media to the full, I am always interested in expanding my network. Since I stumbled upon your name on LinkedIn, I wanted to send you a connection request.


If you can, I would be honored if you would accept my connection. You can also find me on Twitter and Facebook.


It is not always easy to communicate via email in today's fast-paced business world, but feel free to save my information. I also know that there are times when there is no point in contacting social media.


Anyway, I'm glad I stumbled upon your LinkedIn profile. Let us stay in touch!


Best wishes


Jane Doe

Company XYZ
This email has two purposes:
Introduce yourself and follow up on a social media request.

Make sure the person has your email address as this can speed up the process of setting up a phone call or meeting later.
It is not possible to have an email followed up on every social media request. You probably don't want to do this every time. But it is a good strategy if you want to develop a relationship with the person.

The "Blog Post Email "
Received according to HubSpot "Companies that publish over 16 blog entries a month, almost 3.5 times as much traffic as companies that publish between 0 and 4 entries. "

With these statistics in mind, it makes sense to write as many high quality blog articles as possible.

What does this have to do with cold calling emails? You can use these articles as a starting point for discussion. It works like this:

Hello John,

when I did our last blog post, "HIERTITEL ", I thought of you and your company.

The article explores many aspects of social media marketing, with quotes from leading figures and a variety of data.


I would love to hear your thoughts on the article, along with some feedback that we can use in the future to provide better content to our audiences.


Of course, you can always share some of our most popular blog posts. I'm always interested in what other professionals in the industry have to say.


Thank you for your time.

Best wishes


Jane Doe

Company XYZ
In many ways, similar to a welcome email, this format has many advantages:

There's a reason to get in touch.

The email shows that you are interested in sharing information and not just wanting to land a sale.

It shows your knowledge of a specific topic
If you publish regularly, there is never a shortage of articles to share via email.
The "I'm in the area E-Mail "
Do you remember the episode of Seinfeld where the group talked about a lot of people's habit of just stopping by? This is a good lesson for those of you interested in having a cold call email followed by a face-to-face meeting.

Don't just step on the doorstep of a potential customer unannounced in the hope that they'll invite you in. Instead, use this email template to break the ice:
Hello John,

I know you're busy so I'll keep it short. I have several clients in your area and I will be stopping by next week to visit some of them.

If you have a bit of time, I'd like to come over and leave some information about our products and services. My schedule is flexible, so I probably always have time when it suits you.

I don't need a lot of time. I just want to stop by for a few minutes, introduce myself, and leave some information.


Do you have time next week? Maybe Wednesday or Thursday between 1 p.m. and 2 p.m.? Please let me know!


Best wishes


Jane Doe

Company XYZ
This email has several components:
A statement that you are in the area to meet other customers and a social proof (you have other customers).

Details of why you want to visit the prospect.

The assurance that it won't take you much time.
It is possible to drop by potential customers unannounced, but you may not like the result. It is better to agree something beforehand. This email will increase your chances of arranging a meeting.

The "Name-Drop E-Mail "
Do you know someone who knows someone who knows someone? Your network can bring many advantages when you are looking for potential customers for your young company.
Some call name dropping a killer strategy, while others find it tasteless. If you're ready to give it a try, cold calling email is the right strategy.
Here is an example of a name dropping email:
Hello John,

I am writing this message to you because I recently found out that you are a business partner of my close friend Jack Smith.


In a conversation with Jack, he mentioned that you are interested in a new service that we are about to offer.


Do you have a few minutes for a phone call or lunch next week? I would appreciate the opportunity to tell you more about our ministry and get to know you better.


I hope you don't mind that I contact you in this way. When Jack explained your background to me, I immediately realized that you are the perfect person for a conversation.


Thank you for your time. I hope to hear from you soon.


Best wishes,

Jane Doe

Company XYZ
Name dropping can boost your credibility. The person trusts you because you know someone from their network. Also, because of your acquaintance, the person is more willing to reply to your email.

From a response rate perspective, name dropping can give your cold calling a big boost.

The "For advice questions "email
Are You Too Proud To Ask For Advice?
Even the world's greatest entrepreneurs seek advice from other people. They know their weaknesses and are not afraid to seek the service of others.

Asking advice via email can help you build a relationship. The person may be flattered that you asked for their help. This gives you a solid foundation to move the conversation forward.

Try this email template:
Hello John,

As your big long time fan, I wanted to email you to ask for some advice.


I'm writing a book right now and, based on your success in this area, I hope you can answer a few questions for me:


- What process did you follow to find your agent (if you are using one)?


- Can you give me some advice on how to contact editors directly?


I know there is a lot to say on both topics, but any advice from you would be extremely helpful.

Best wishes


Jane Doe

Company XYZ
This email is short, friendly and gets to the point. You ask two straight questions in the hope of getting two straight answers.
If you are lucky, the person will give you helpful advice. And if you do really If you are lucky, she might even offer herself for a phone call, give you detailed feedback or even offer you personal help as a mentor.

For this email, an ideal response would be something like "Can you please send me your suggestion or manuscript for review?" Even if that doesn't happen, any answer will help get your foot in the door.
The "Free help e-mail "
If you send cold calling emails to potential customers, you are sure to be an expert in a specific field. With your expertise, you can offer advice to these potential customers for free.
I know that you have a lot to do. I also know that you have a lot of work to be done. But offering free advice can turn into a lucrative business later.

Compiling this type of email is easy. You need to include the following elements:
Presentation with an explanation of your expertise.
The kind of free help you offer.
One method of offering help.
Here is a template that you can use or modify accordingly:
Hello John,

As an expert in the world of social media marketing, I take pride in helping my clients increase their traffic and increase their income using Twitter, Facebook, LinkedIn and other major social platforms.

I looked at your profiles in the social networks and I like what your company does. There are a few other things you could do to take your strategy to the next level. For example, you could use tools that allow you to better reach your audience.

Do you have time for a quick phone call to discuss some of the basic strategies? Do you want me to send you a report of my results? Both free of charge, of course. I just want to chat with you, give you some advice, and learn more about your company.


If that sounds good, send me an answer. Thank you for your time!

Best wishes


Jane Doe

Company XYZ
This email falls somewhere between an aggressive and a low-key sales tactic. It becomes clear that you are offering free help to sell a product or service in the future. As long as you're not too pushy and make it clear that the advice is free, the recipient won't feel bothered.

To cut a long story short: if you are well versed in an area, you can use this to your advantage if you send cold calling e-mails.

The "Meet-my-friend "email
That sounds like a bad pick-up, but it's the exact opposite.
Similar to free advice, you can offer to put the person in touch with someone who can help their business.

This won't help you immediately, but it lays the foundation on which the relationship can grow.

If you want to get it right, get to the point in a clear and concise way. Try the following:

Hello John,

After learning more about you and your company, I wanted to introduce you to a friend of mine.


Jack Smith is an expert on conversion rate optimization and judging from your last article, this is something you are interested in.


I sent Jack a copy of this email because I think you have a lot to talk about. Don't feel obliged to speak to im. But if you have some time, please introduce yourself. He may be able to answer some of your questions about CRO and the like.


Best wishes


Jane Doe

Company XYZ
What's in it for you? Isn't Jack the one who wins? Your goal is to help others, not yourself. With this type of email, you do that.

Chances are, your friend will keep you up to date if the person contacts them. This is the first step in building a relationship that you can benefit from in the future.

After a few weeks, as soon as you know that the two parties have come into contact, ask again. You will strengthen the relationship step-by-step, hoping to close a sale yourself one day.
The "I think we know each other "email
If you attend networking events, conferences, and seminars, you will meet thousands of people. While networking is important at conferences, there are only a limited number of hours in the day.

Do you remember someone you met at a conference? Do you want to contact this person again? Even if you're unsure whether she remembers you, it is worth trying to send a cold call email to start a conversation.

And here's the best part: even if the person doesn't remember you, they'll respond anyway so as not to appear rude. It could be that you had an important conversation a few months (or years) ago.

Use this template:
Hello John,

I hope that this message reaches you well. I don't know if you remember me, but we met a few months ago on the "XYZ fair ". I enjoyed our conversation and was even able to use some of the strategies that you presented with me.


We are in the process of building up our marketing efforts and I remember you mentioning that you needed a service similar to the one we offer. Is that still the case? Have you already found what you were looking for?


Even if we don't get the chance to work together, I hope to hear from you. I really appreciate your advice.


Thank you for taking the time to talk to me!

Best wishes


Jane Doe

Company XYZ
This type of email is a double-edged sword:
You have the opportunity to introduce yourself and relate to your last conversation.
You can build in a selling point based on what the person has shared with you in the past.
If it has been a long time since you last spoke to the person, that doesn't mean the relationship is dead. An email like this can revive them.

Don't forget the subject line
If your email is ignored or deleted before someone opens it, it doesn't matter what strategy you use or what you have to say. This is why the subject line is so important.

Since 33% of all email recipients only open the email for the subject line, this is a detail that should not be ignored.

MailChimp, a leading email marketing company, shared a few tips for email subject lines. Their advice is based on analysis of emails sent by their millions of users - with a focus on emails that had the best open rates.

As a rule of thumb, the best subject lines are descriptive, short, and give a reason for reading the email. Here are a few of MailChimp's tips:

Personalization. If feasible, the email should contain the recipient's first or last name and a city.
Make it short. Most people skim subject lines and immediately make a decision to either open, skim, or delete the email. Subject lines of 50 characters or less have a higher open rate.

Test, test and test again. Create different subject lines and test them all one at a time. The best way to see what is working for your audience is by observing the results.
Other articles that offer tips on email subject lines include those from Kissmetrics and Unbounce.

All in all, your goal should be for the majority of your recipients to open the email. Then you want your email to generate a positive response. If you don't take the time to test subject lines, you're missing out on a chance to reach more people.

Conclusion
Along with cold calling, cold calling emails are an effective way to reach prospects and build relationships. Salespeople who don't get results are likely not following the templates above.

There is no right or wrong way to send a cold call email. But there are steps you can take to increase your response rate.

If you want to make more sales with cold calling emails, experiment with a wide variety of templates. As soon as you get a positive answer, make a note of what you did right.

Have you had success with another type of cold calling email?