Can you go on a road trip to South America
15 road trip tips for the perfect road trip
Road trips are great because they turn driving from compulsory into freestyle. They have long since become a popular form of vacation and no longer just an option for budget travelers. Once the destination has been found, the question of the perfect road trip car arises. For some it is a classic VW Bulli, for others a 1966 Thunderbird à la Thelma & Louise or a family car - there is the right car for a road trip for every budget and requirement. Book your rental car, pack your cooler bag, load the correct playlist onto your mobile phone and the road trip can begin. We'll tell you here what you need for a cheap road trip, the most beautiful road trip destinations and what you should always have with you.
Book a rental car
The best road trip tips for a car tour
Where should you go, what kind of car do you need and what do you have to pack - we answer these and other questions with our road trip tips.
1. Plan a road trip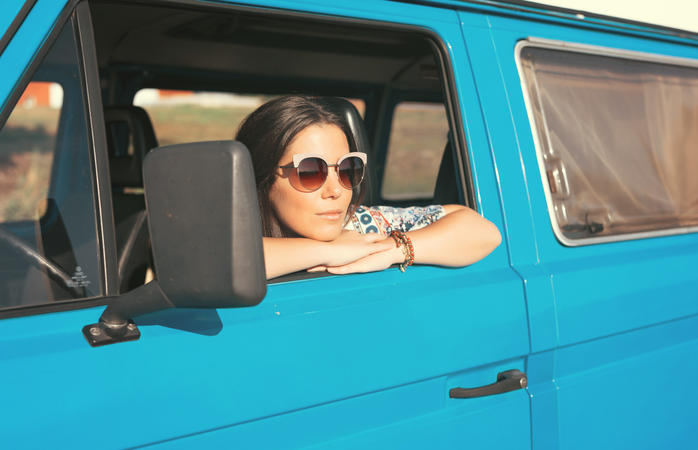 Planning a road trip starts with the question - where should the journey go? Do you want to explore the area right on your doorstep, avoid a long flight and still get from A to B or do you have a very special area in mind that you want to see?
Routes that either run in a circle or have airports at both the beginning and the end of the road trip are ideal, so that you can quickly and easily pick up a rental car and then return it again.
The Roadtripper page (also available as an app) is made for you, because unlike Google Maps, it not only shows you how long you need for a planned route, but also how much you should calculate for gasoline, points of interest the way and much more.
2. Plan the road trip route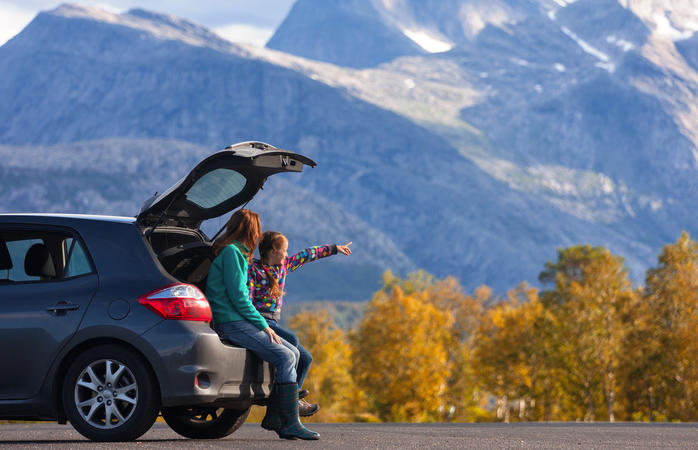 For a longer road trip, it makes more sense to buy a navigation device than to rent it. Daily rental fees pile up quickly and you often pay more for a longer journey than if you buy a device. You can also use your own sat nav over and over again, at home and abroad.
Google Maps are an alternative to the classic navigation system. It is available as an app for mobile phones and can also be used offline, just like the MAPS.ME app.
If you like it authentic, you can use a good old map instead of all the technology. It doesn't predict the traffic jam, but it still gets you from A to B. It's great when you have a passenger who can read maps so that you have your hands free for the wheel.
3. Road trip routes around the world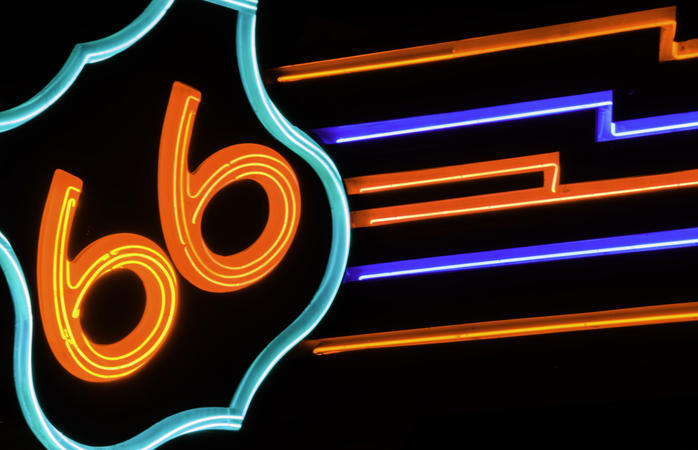 Neon signs on Route 66
Some countries and areas are perfect road trip material. The USA beckons with the famous Route 66, Australia with a non-stop ocean view and the Panamericana, the longest road in the world, not only leads you through different countries, but even through several continents.
Road trip USA
A classic USA road trip leads from the east to the west coast. If that is too long for you, you should take the incredibly beautiful Highway No. 1, which leads from San Francisco to Los Angeles: Tips for the perfect road trip through the American Southwest.
We have put together great routes for a road trip through the USA: Route for a Florida road trip and the wild route through America
Road trip South Africa
If you want something more exotic, you can go to South Africa. Nowhere is the view more beautiful than on a road trip along the Garden Route from Port Elizabeth to Cape Town: Road trip: Discover Africa behind the wheel
Road trip Europe
There are many options for a road trip in Europe, and many holidaymakers like to head north: the ring road in Iceland is great for a road trip and offers 1500 km of pure nature and the Highlands in Scotland are also perfect for a road trip, especially for nature lovers . Scandinavia is also very popular with motorists, with Sweden topping the list for a road trip.
If you like it warmer, grab your car and head south. Suitable road trip routes in Spain and Portugal await you here, preferably in combination. Mallorca in particular is easy to explore by car. Italy and France are also popular for car tours: Tuscany is wonderful for a road trip and France surprises with car tours in Corsica.
Road trip Germany
But even a road trip in Germany has a lot to offer and it is not for nothing that our motorways are so popular with visitors. Those who prefer a leisurely drive in picturesque surroundings should plan a road trip along the Rhine route. From Cologne to Mainz you drive past castles, vineyards and of course the beautiful Rhine, where some of the most beautiful nature experiences in Germany await you.
Road trip South America
If a regular road trip is not exciting enough, rent a motorcycle. A motorcycle road trip is the ultimate freedom, especially if you follow in the footsteps of Che Guevara through South America or cross Vietnam from north to south: 12 places in South America that you have to see
4. The right car for a road trip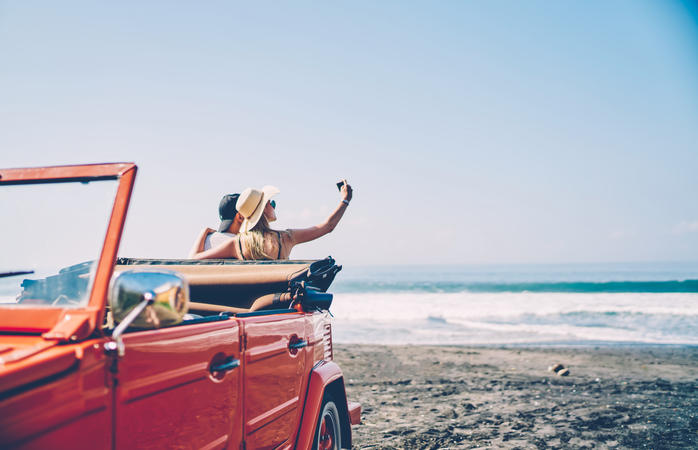 Once you have decided where you want to go, then you have to choose the road trip car. Most rental car companies now offer you a large fleet of cars to choose from, depending on the type of trip and the number of people traveling with you.
Tip: This is how you can book a rental car without a credit card. Those who like it more adventurous should book a four-wheel drive, those who want to sleep in the car a station wagon and those who want to take Instagram-compatible souvenir photos while on the move have a chic convertible. So that you get the perfect road trip car, you should definitely reserve in advance. In any case, choose unlimited mileage (unless you can accurately estimate the length of your trip) and fully comprehensive insurance. In some countries you can take out separate insurance for tires and discs, which is particularly worthwhile for driving on unpaved roads. Also check the respective regulations of the rental company because many require a minimum age and want to know when you got your driver's license.
Compare rental car prices
If you have planned a long trip over several months, it can also make sense to buy a used car and sell it again afterwards. Gumtree is a great place to find a used car in many countries. Have the car checked out by a mechanic and declare it suitable for a road trip - of course, before you sign the sales contract and get behind the wheel.
5. Little helpers - apps for the road trip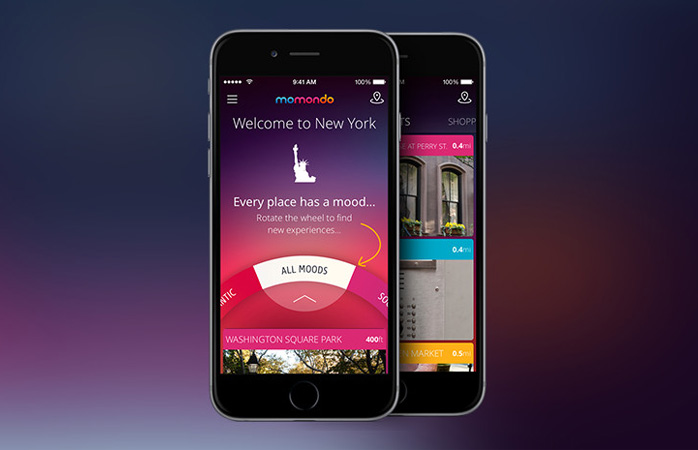 Discover the secret corners of a city with momondo places
A road trip can also be planned quickly and easily with apps that make your life (and driving) easier when you are out and about. Here are our useful favorites:
AroundMe: The AroundMe app recognizes where you are and lists everything from gas stations and restaurants to cinemas and bank branches. Practically even in an emergency you should need a hospital or to plan a romantic dinner without having to search a lot.
Flush: If you don't want to sit on the next roadside, Flush is just the thing for you. Thanks to GPS, the app will find one of 190,000 public toilets very close to you.
Gas Buddy: This road trip app is ideal to help you save, because Gas Buddy compares gasoline prices. Even if it is not always up to date in remote areas, the app is helpful to give you an overview of when and where you should fill up.
ParkMe: In the evening you arrive in a new city and then the tiresome search for a parking space starts. ParkMe helps, because the app shows you available parking spaces in the area and even the costs. You can specify various parameters and, for example, only search for multi-storey car parks. The app also tells you how many parking spaces are still available, so you can decide whether you will manage to get hold of the last free space or keep looking.
Urgent.ly:Just in case, there's Urgent.ly. This app provides first aid in the event of a breakdown, with one click. It doesn't matter whether you have a flat tire or locked yourself out of the car - the app will get you help.
ADAC:For ADAC members there is now also a practical app that calls the breakdown assistance. The app works both in Germany and abroad. The function that automatically transmits your location so that help can find you quickly is particularly clever.
More tips: 20 must-have travel apps for 2017
6. On the go online
Regardless of whether you have to find a toilet on the go or want to take a look at the nicest detours on the map, even when you are on the move it is simply practical to have internet every now and then.
With an activated mobile phone you can buy a prepaid SIM card with data volume in most countries. This means that you can be reached easily, you can also make cheap calls abroad and you have mobile internet.
Alternatively, there are now companies like Teppy that rent a router for the Internet on a daily or weekly basis. tepwireless.com
With so much mobile phone use, you should definitely pack a charger that you can connect to the cigarette lighter in the car - not every car already has a USB outlet.
7. Road trip tips on traffic rules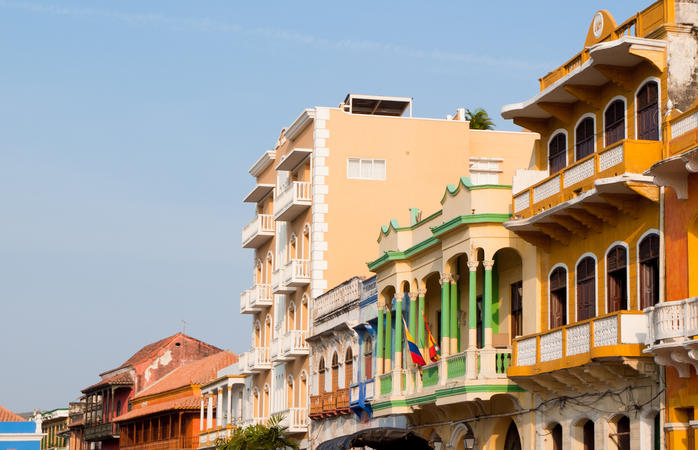 Familiarize yourself with the traffic rules of the countries you plan to travel to. Tips and advice for Europe can be found at the ADAC and abroad at the various tourism authorities.
Remember that in many countries, especially in former colonies of the British Empire, you drive on the left and the wheel is on the right. If you have to adapt to it, you should take it slowly and avoid hectic traffic at the beginning.
Very important: the German driving license is valid in the entire EU area and in the European Economic Area. For a road trip in a non-European country, it is also advisable to have a foreign driving license. You can apply for this at the Road Traffic Office and it must be presented together with your regular driver's license.
8. Road trip tips: Music while traveling
Every road trip needs a playlist! Download your favorite songs to your smartphone beforehand and don't forget the USB cable so that you can turn up the volume in the car.
If you want to be old school, you don't just drive around in an old classic, you also have a mixtape on cassette with you. However, you should also give local radio stations a chance to spot music that you can't get to at home.
If you want other entertainment from time to time, you can download the latest podcast episodes or audio books. Ideal if you are actually a bookworm, but have to sit behind the wheel yourself.
9. Small detours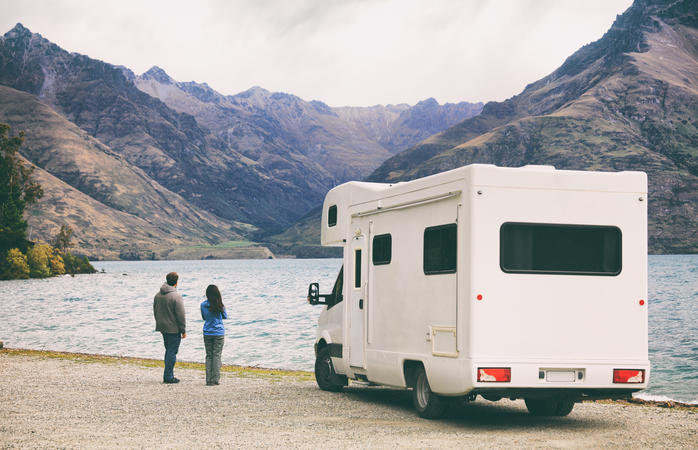 The ultimate road trip tip? The route is the goal! Motorways will get you there quickly, but you will also miss a lot. If time allows, you should opt for smaller, less traveled roads.
This way you can see more, get to know locals and find ways that you would otherwise never have known about. And while you're at it - detours can be worthwhile. Passing a sign pointing to an old ghost town or a crazy tourist attraction? Follow him, spontaneity is the mother of all road trips.
10. Cool bag instead of suitcase
For a cheap road trip, it pays to have a well-filled cooler bag with you. It is best to stock up in the local supermarket before you leave, as these are often cheaper than petrol stations.
When choosing your road trip meal, make sure to pack something healthy in the shopping basket. Anyone who sits behind the wheel for a long time should prefer trail mix, fresh fruit and mineral water than chips and cola.
It's best to buy things that you can put in your mouth without a lot of preparatory work. Melon is delicious, but rather unsuitable as a snack on a road trip. Grapes, dried mango strips, unsalted almonds or drinking yoghurt instead of yoghurt tubs are ideal.
For drinks, bottles that can be resealed are suitable, or even better - camping bottles that you can refill with filtered tap water. Make sure you don't leave a soda in the car when it's very hot.
11. Road trip with friends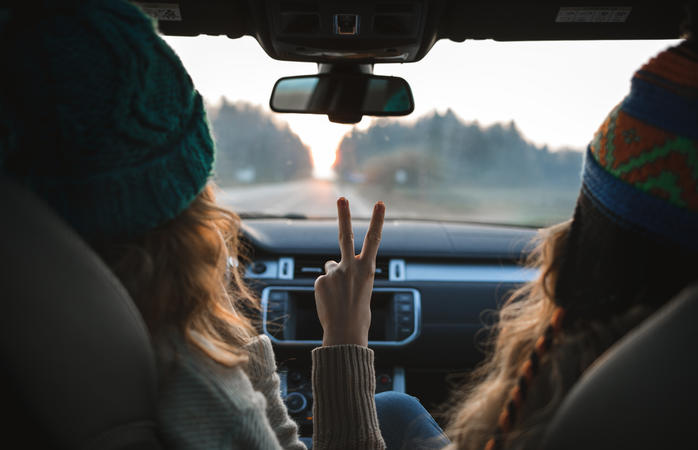 Who can go on a long journey? Choosing your road trip companion is pretty important because you will spend a lot of time together in a confined space. On a road trip with friends, it's best to bring someone else with you to take turns driving. Otherwise, other talents have to be found - reading cards, storytelling and feeding them with snacks are valuable qualities of a good co-driver.
Tips for a girls vacation
If you are traveling with small children, ideally have another adult with you on the road trip to comfort, entertain and wipe away the spilled juice if necessary. Also very important: recharge the iPad and pack tablets against car sickness in case of an emergency. Those who master the road trip solo can register with Bla Bla Car. There you will find passengers all over Europe who are looking for a cheap ride. Ideal for sharing fuel bills and having some entertainment every now and then.
12. Stopover
Petrol stations and yards are often not as bad as their reputation. In many countries you will find branches of the local supermarket chain here, so that you can easily refill your cooler and you can often try local specialties at the counter.
In many toilets you have to pay money or tip the toilet attendant, so it is worth having change with you. It also makes sense to take toilet paper and hand disinfectant with you.
Otherwise, it is worth going a little further inland with a stopover. There you will find charming restaurants instead of fast food chains, markets and cookshops. Real foodies get the latest Michelin guide and plan the route to the best restaurants.
Hotels can also be worth their own trip and scruffy motels as you know them from American films have their very own charm. If you want to be spontaneous when choosing your accommodation, you can download the momondo app. The function "Tonight near me" shows you which rooms are still available in your area on that evening. Find our app for iPhone and Android.
13. Camp (also in the car)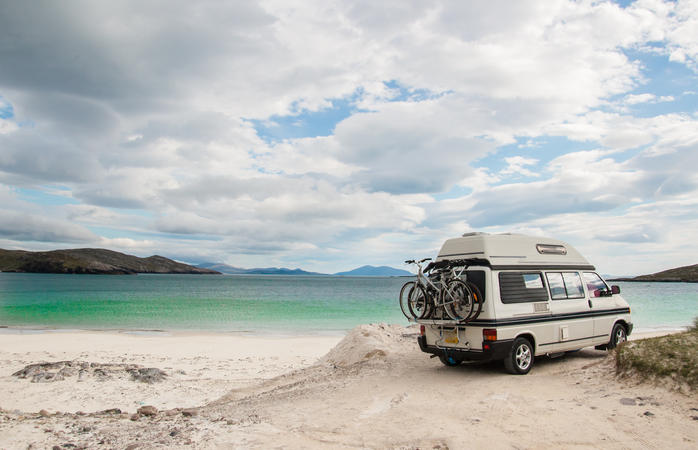 Whether for budget reasons or because it's so beautifully nostalgic - camping is back in. Instead of sleeping in a motel room, you sleep in a tent in the countryside, in a small VW Bulli or maybe in a campervan. The folded back seat of many a station wagon is also suitable for simply stopping for a nap on the go.
Then all you need is a campsite or trailer park, a cool box full of marshmallows and of course a campfire. In some countries you can also spend the night at gas stations and in the USA you can even stay in the parking lots of Walmart stores. Petrol stations are particularly practical as some even have showers and you can get fresh croissants and coffee here in the morning.
Extra tip: Cool campsites (without any caravan neighbors in the garden chair) in Germany
14. Road trip checklist
To be safe on the road, it pays to go through a road trip checklist. No matter where you go, you need a jump start cable, a spare wheel, warning triangle and tools and ideally you also know how to change a tire.
For longer journeys, it makes sense to always have a few liters of water in your car and an extra petrol can (but find out about the regulations of the respective country or region - in some you are only allowed to take a small amount of additional fuel with you).
It goes without saying that if you don't want to sleep in the hotel, papers and a driver's license should not be missing, as well as comfortable clothes and camping equipment.
15. Play it safe!
As with all other solo trips, if you are traveling alone you should let someone at home know when you will be where. The best thing to do is to agree on times when you will report in order to calm down worried parents or partners and to be safe on the road.
Tip: 14 essential tips for solo travelers
Take enough breaks to stretch your legs and avoid driving when you are overtired. When the yawning never stops, it's time to take a break or let the passenger behind the wheel.
Even if you cannot plan for all eventualities, you should find out about possible weather conditions beforehand. If you know that you have to drive in the snow or that you need to use four-wheel drive, then it is worthwhile to complete appropriate training beforehand. Both the ADAC and various car companies offer driver safety training in various conditions.
If you are unsure about the current condition of a road, especially in remote areas, you should check with the local road traffic office or the police beforehand. In some travel countries you should also avoid driving at night.In Australia, for example, wild kangaroos like to get in the way after dark.
Still need some road trip ideas? Then let yourself be inspired here before you start and it's time to book a rental car and have a good trip!